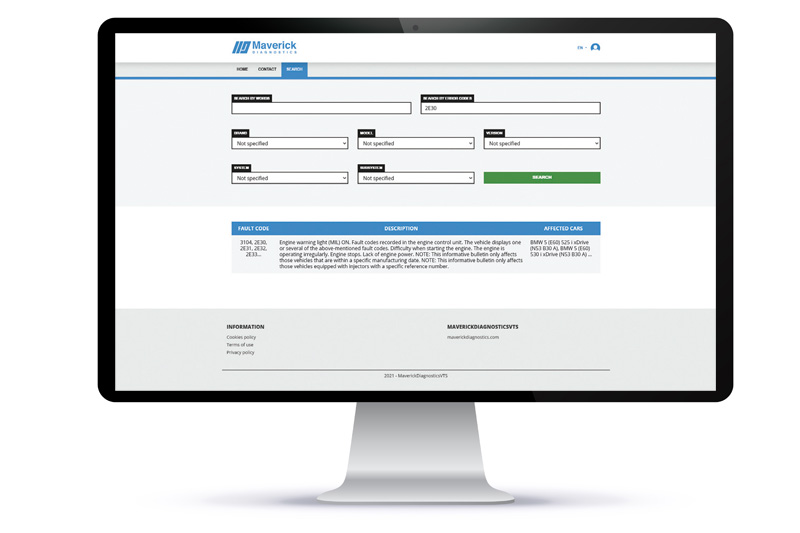 ---
As diagnostics becomes ever more commonplace in the workshop, technicians are finding themselves relying on original dealer diagnostic tools in order to get the job done efficiently and to a high standard. IT issues that inevitably accompany computer-reliant work can cause workshop owners some serious headaches. Here, Maverick Diagnostics outlines how it can help.
---
Imagine for a moment what it could cost you to employ fully qualified master technicians from all the vehicle manufacturers you work with, just to sit in your workshop and give you advice as and when you need it. It's unfeasible, of course. Yet, as vehicle complexity has grown, the importance of high-end qualified technical support has become crucial to all workshops.
All workshops generally have the same complaint – the lack of ability to compete at the same level as the main dealers. Increasingly, module replacement or updating is the only way to implement a vehicle fix and this can only be carried out with dealer diagnostic tools. To continue to prosper in the future, workshops are generally starting to go down the original dealer tool route. This is a journey that ultimately leads to a better return on investment than non-dealer tool workshops.
Dealer tools are constantly evolving and updating, with functionality being added daily and bug-fixes constantly done – therefore, they require regular maintenance. Typically, they require the reloading of software at least once a month. What's more, ongoing training is paramount due to software development and functionality changes. The aftermarket workshop needs to concentrate on fixing vehicles rather than running a full time IT support team. The manufacturers have a continuous investment budget to develop and support their software and IT infrastructure in their dealer network, a privilege the aftermarket workshops do not have, this is where Maverick Help Desk (MHD) steps in.
What's involved?
For those wanting to take the next step, Maverick Diagnostics is unique in the aftermarket by assisting with the whole process from initial registration and application for security access with the manufacturer for registration of licence, through to ongoing software and hardware support for the life of the tool.
Maverick Diagnostics Vehicle Technical Support
VTS has unlimited use of an online portal with over 1 million verified fixes together with live technical support of 5 tickets a month. Live support is accessed by a ticketing platform, each ticket gives the user end-to-end vehicle support and accurate technical data, supply of verified test plans and OEM wiring diagrams all to enable efficient and fast repair. This service is available to ALL workshops with or without dealer tools.
Maverick Help Desk
MHD provides training should you have any issues navigating the OEM Software, it monitors the individual PC and updates the software and is also there to support the software and hardware of each registered OEM tool and computer. Ongoing support is given to use the tool and help given for the likes of password resets. MHD also deals with windows issues and general IT questions such as system compatibility.
---
Want to know more? For more information, click
here
.