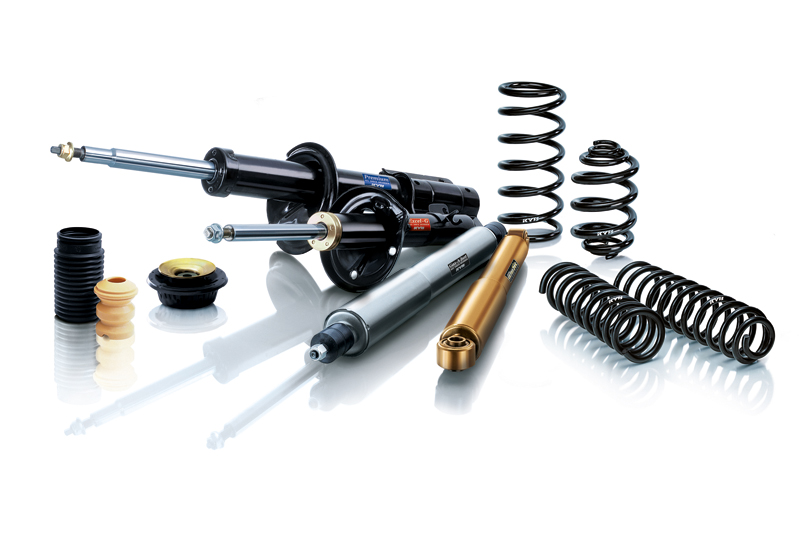 ---
KYB argues the case for prioritising quality over price when specifying replacement parts.
---
In today's economic climate, it is becoming increasingly likely that the decisions drivers make in relation to work on their vehicle is driven by price – they want the best solution at the cheapest price. However, as a garage, you understand that when it comes to replacing components on a car, quality is significantly more important than price. So… what are the benefits to you choosing premium suspension components and how do you explain to your customers why they should pay more?
1. Explain the importance of safety
Many motorists will understand that the primary function of a shock absorber is to absorb road conditions, but they often fail to recognise that they are also fundamental to keeping your tyres safely pushed in contact with the road. Make sure your customer understands that replacing shock absorbers is not only a matter of comfort, but also safety. With just one worn shock absorber, a vehicle's stopping distance can increase by up to 2 metres when driving at 30mph – that could be the distance between stopping safely and hitting a hazard.
For cars with Electronic Stability Control (ESC), the role of the shock absorber is critical, impacting your vehicle's ability to take over in an emergency. ESC senses when a vehicle is leaning too far or when tyres are beginning to lose traction, and instantly reduces engine speed and can apply one of the individual wheel brakes at just the right amount to attempt to keep the vehicle in control. ESC is calibrated when a car has new, high quality OE shock absorbers. If you replace with inferior quality product then this will have an effect on every single calculation made by the vehicle's ESC. The vehicle won't react and perform in the manner expected of it, increasing the likelihood of an accident. Put simply: don't compromise on your safety.
3. Replacing with cheaper parts will inevitably cost more in the long run
KYB recently commissioned testing of budget coil springs. When compressed a million times, KYB found that the budget brand coil springs will compress an average of 183,000 times before breaking. By contrast, all of the KYB coil springs tested survived the million rounds of compression. Ask your customers how long they plan on keeping their vehicle to steer the conversation towards long term maintenance. Explain to your customers that by paying a little more now, they will eventually save money in the long-run due to the fact that they will not have to replace sooner. KYB's premium quality and reliability is reflected in our UK warranty rate – less than 0.2%.
4. Replacing with cheaper parts could also cost you your reputation
When it comes to automotive repair, it is a topic most motorists know very little about, so they need to trust that as the experts, you'll make the right decisions on their behalf. As shown above, using budget brands means that these parts are more likely to fail prematurely. Not only will this reflect badly on your business, but it could also cost you money. Studies show that nowadays, most people take to Google or a similar search engine to research a business before using their services or product. It's also incredibly easy for customers to leave reviews online about your business and ideally, you want as many of these to be positive to encourage new custom.
4. OEM Quality
When purchasing shock absorbers from an Original Equipment Manufacturer like KYB, you're guaranteed that you're restoring to OE or more, never less. If trusted by vehicle manufacturers across the world, you can be sure that you can trust KYB for your replacement parts. All KYB aftermarket shock absorbers are produced in exactly the same factories and using the same rigorous testing processes and materials as OE shock absorbers.
Using OEM manufacturers also means you're guaranteed the perfect fit – because who knows the specification better than the manufacturer that was responsible for manufacturing the part as original equipment? This means that they're not only easier to install, but you're also less likely to encounter problems, leading to higher customer satisfaction and less returns.
5. Support Tools
KYB supplies you with world class quality products, backed up by world class technical support. Not only do we have a customer service and technical team on hand to answer any telephone queries you might have about KYB product, but we also have a Support Zone available 24/7. KYB's Support Zone is designed for technicians, aimed at assisting with the fitting of suspension components. These tools include: 360° images, fitting videos, recommended tools, part specific fitting advice, technical bulletins, and training materials.
KYB also has the KYB Suspension Solutions App, available to download for free from the App Store and Google Play. It is designed to help you to complete the job easily and also to help you inform your customer of the dangers of driving with worn suspension, increasing your sales. For more information, click here.
---
Want to know more? For more information, click
here
.