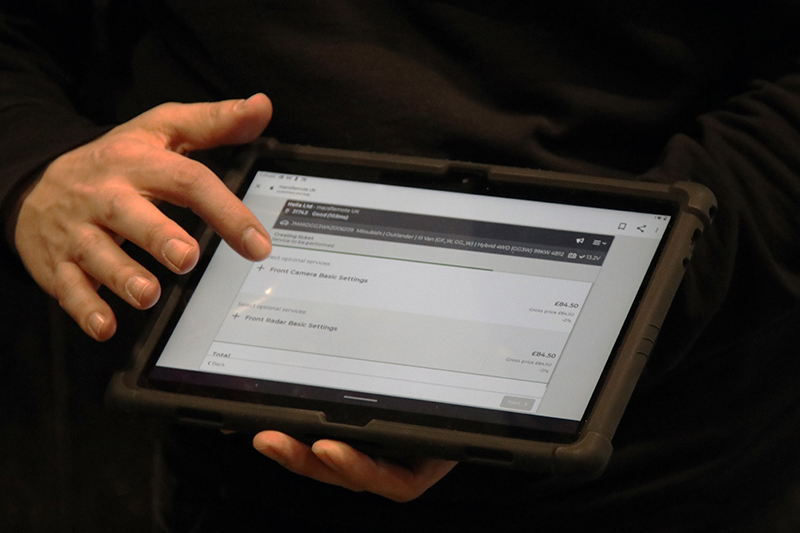 ---
With the growth in the sales of hybrid and electric vehicles, workshops need to be able to accurately and safely take high voltage electrical measurements and Hella Gutmann is on hand to allow them to do so. The Head of Hella Gutmann UK, Neil Hilton, explains.
---
Following the recent introduction of the mega macs X and macsRemote diagnostic devices, Hella Gutmann has again proactively addressed the future with the addition of another must-have tool.
As is clear by every measure, high voltage vehicles are here to stay, so the safe and accurate measurement of their electrical voltage is a necessity for workshops that intend to stay in the game, because they don't want to be turning away business to the vehicle manufacturers franchised dealers or other more future oriented competitors. They therefore need a tool to allow them to undertake repairs and diagnosis on these vehicles.
The Hella Gutmann MT-HV module, was specifically created for work on electric and hybrid vehicles and utilises permanently integrated HV measurement technology. However, it also incorporates a slot where the more familiar MT-56 and MT-77 low voltage modules can be inserted, which transforms the MT-HV into a wireless measurement module for both low and high voltage measurements.
Specially designed for HV measurements, the MT-HV's cables, which have a thick crosssection that makes them easy to hold while wearing protective gloves, also encompass safety features such as the contact switch that must be held when taking the measurement. In addition, if necessary, the measuring tips can also be easily replaced and even be used with VM specific, high voltage adapters.
As an internal battery provides its power supply, apart from the measuring cables, there is no lead or connection that could be a distraction or safety risk when work is being carried out on HV components, because the MT-HV operates wirelessly, with its control unit communicating with a Hella Gutmann mega macs X, for example, via Bluetooth.
Just as we have done with the mega Macs X, we have also changed the way the software licences for the device can be set and changed to suit the immediate requirements of the workshop.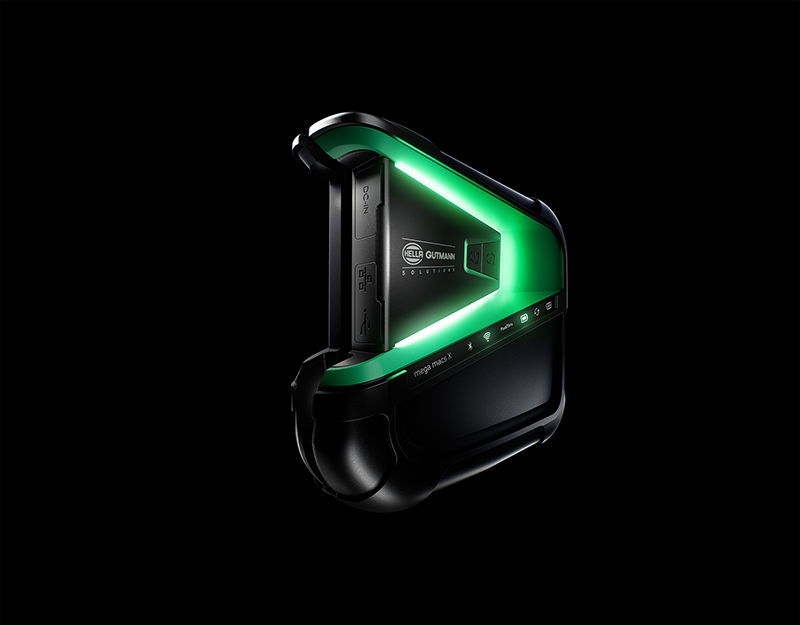 For instance, provided that the right accessories are used, such as the appropriate measuring tips and terminals, as well as the correct ampere clamps to match the current, the MT-HV with a low voltage module inserted, can be used with a basic X3/X4 software licence. This allows the measurement technology to function as a two channel, digital multimeter and ultra-fast oscilloscope, exclusively for low voltage measurements. In addition, in conjunction with a MT-77 it can be connected to LPD kit sensors and is able to perform pressure measurements.
mega macs X
The mega macs X provides utmost flexibility with an array of options when it comes to both the hardware and software configurations. It allows individual workshops to choose whether they wish to combine their existing desktop browsers or tablets with the mega macs X, or move to a totally mega Macs driven platform. This variability means that, should the workshop's requirements change, then it is able to alter the mega macs X setup to match, Hilton continues.
The mega macs X is not only flexible in terms of hardware, thanks to the different software modules that are available, workshops also have a choice when it comes to the scope of the services that can be accessed. This ensures that the workshop is always able to gear the service level it requires to the needs of its customers and, if necessary, the software module altered to make sure it always fulfils the workshop's requirements.
Naturally, as with the other mega Macs devices in the Hella Gutmann line-up, the mega macs X is equipped with ADAS calibration software, which is now a must-have feature for workshops. In addition, however, it also comes with a CSM (cyber security management) function.
This means that instead of having to register individually with each vehicle manufacturer portal to obtain diagnostic releases for their customer's vehicles, a onetime authentication, activated by proof of identification by passport or identity card, is all that's needed for a mega macs user to have a clear path to work on all vehicles with a security lock, at the usual diagnostic depth.
All these functions and its flexible usability clearly puts the mega macs X at a different level to any other diagnostic tool on the market and sets the trend for the future of vehicle diagnostic management.
macsRemote
The macsRemote provides diagnostic access to newer vehicles that even the most up-to-date aftermarket tools cannot cater for and allows independents to legitimately access VMs own tools, to diagnose faults and activate solutions, from the moment it leaves the showroom, said Hilton.
With these three products, Hella Gutmann has developed the solutions that provide independents with a route to remain at the forefront of the service and repair sector, and rightfully and effectively, compete with the VM franchised dealer network.
---
Want to know more? For more information, click
here
.