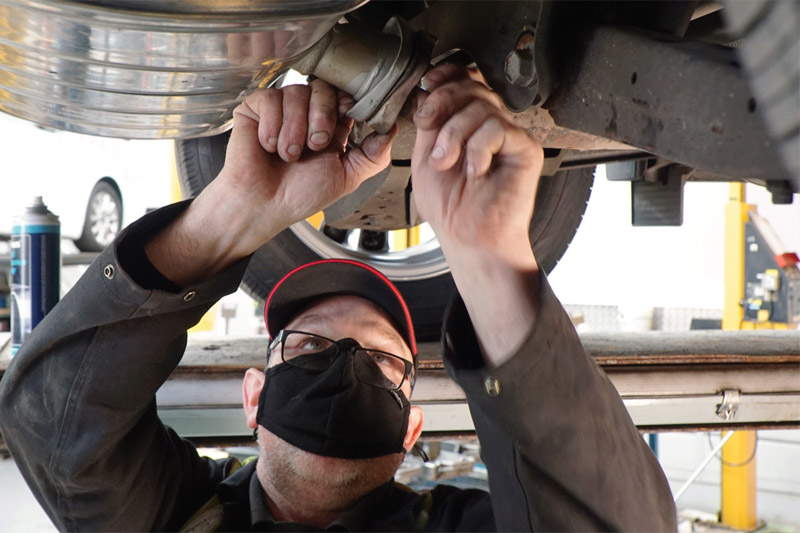 ---
To help customers avoid unforeseen breakdowns or MOT failures, it's important to check that an exhaust is in optimum condition. But what are the key things to look out for when inspecting an exhaust on the ramp? Doug Bentley at Klarius Products covers five essential checks.
---
1. Check the level of corrosion
Exposed to the elements on the underside of the vehicle, corrosion is a real risk to the reliability of an exhaust system. Things to look out for include holes, soot marks from cracks as well as heavy corrosion of joints and brackets. Corrosion can cause leaks in seams, pipes and the muffler box in extreme cases. If a high level of corrosion is present, the affected section of the exhaust must be replaced.
Vehicles susceptible to these issues include the Toyota Aygo, Citroen C1, Peugeot 107 as well as early to mid-2000s Ford Fiestas, Vauxhall Astras and Zafiras
2. Look for failed parts
Damaged exhaust components usually result in an MOT failure, so you are helping the customer by offering a replacement beforehand. Perforations in the pipe, excessive corrosion, cracks or damaged flexipipes are common causes of an unsuccessful test. Spotting these issues early on will avoid a vehicle being declared unroadworthy and requiring a retest.
3. How are the mountings?
Every exhaust has mountings, but with prolonged road use, they can degrade and fail. Damaged mountings are one of the main reasons for knocking noises and exhaust failures. Mountings in poor condition combined with the vibrations of driving cause the exhaust to flex, impacting the underside of the car or resulting in complete detachment in extreme cases. By checking the mountings while on the ramp and carrying out a cheap switch to new items if required, a costly full exhaust replacement can be avoided.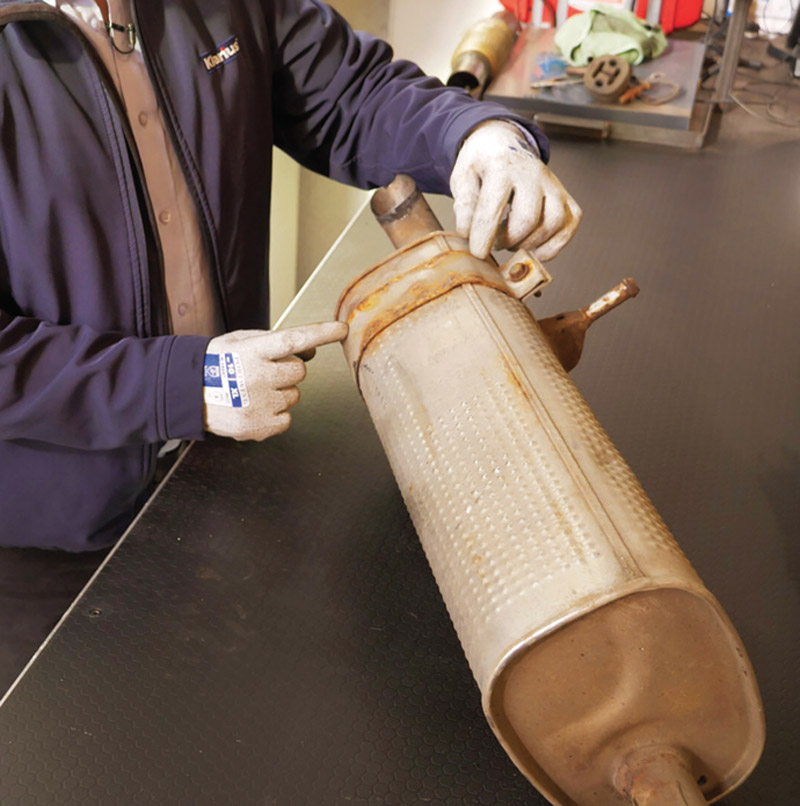 4. Dealing with diesel particulate filters (DPFs)
DPFs can clog with soot with prolonged use, which is usually signposted by a check engine light, limp home mode or a loss of power. Often, triggering a regeneration cycle by driving the car at high revs can burn off the soot and clear the blockage. DPF cleaner products can also be effective. However, if a warning light is displayed, it is often too late to unblock the DPF, so a full replacement may be required.
5. Be aware of AdBlue on diesel cars
AdBlue fluid is present on all Euro 6 diesel vehicles manufactured from 2015 onwards. Tank sizes vary between 10 to 30L. Typically, vehicles on average will use a litre of AdBlue for every 1,000 miles of driving – so the tank can run low. Many motorists will not check the level, only refilling once a dash warning light has illuminated. If the tank is empty, some vehicles may refuse to start at all. By offering to refill the AdBlue tank as part of a service, you are helping your customer and potentially adding an easy extra item to the bill.
---
To find out more about Klarius Products, click
here
.