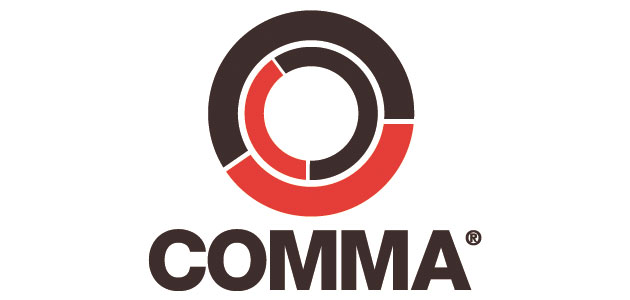 Why has one of the aftermarket's best known lubricants suppliers undergone a significant image overhaul? PMM sought out the answers.
A new year, for many, can bring with it a real sense of reflection and optimism. As the chiming of the bells fades into the distance, some see the closing of one term and the beginning of another as an ideal opportunity to reinvent themselves. A clean slate, you could say, or a fresh piece of paper on which to write a new chapter over the (so far) unblemished 12 months that lies ahead.
In some cases an image refresh, such as a haircut or wardrobe overhaul, provides a great starting post from which to navigate this new life-path. Whether it's derived from a yearning to reinvent oneself, to make a bold statement or just to try 'something else', a new look can often put the wheels in motion as we face the goals we've set with renewed vigour and momentum.
The longevity of this personal renovation will be different in every circumstance, but it's safe to say that a well thought out, strategic plan is considerably more likely to bear fruit than that which is whimsically devised over a few glasses of bubbly as Auld Lang Syne begins to clear its throat.
For those whose 'resolutions' have already been consigned to the 'failed' basket, solace can be found in the fact that there's always next year. For others, though, the former self belongs well and truly in the past.
The big rebrand theory
At the start of 2014 Comma, one of the UK's leading names in aftermarket lubricants and automotive chemicals, unveiled the results of its own personal makeover in the form of a fresh brand strategy.
Far from a spur of the moment decision, the process of overhauling the previous Comma branding had been in the offing for some time. In fact you can look as far back as 2012 – as the dust began to settle following Cosan Lubricants' acquisition of the company from ExxonMobil – to identify where the wheels of the initiative began to turn.
Cosan, for those unfamiliar with the name, comes from Brazilian heritage and is best known in its home territories, and abroad, as a producer of sugar cane. The fact that this ingredient is key to producing ethanol – so crucial to South America's transportation infrastructure – has meant that the company has grown exponentially as demand for biofuels has further increased.
Further depth has been added to the Cosan portfolio in recent times with oil and lubricant distribution forming an integral part of the business. It seems, then, a natural fit that when the organisation decided to spread its wings and seek expansion into other global markets, Comma's door was duly knocked upon.
If it isn't broken
So why the big change? Those with a more inquisitive nature about them may well point to the evidence that Comma is both well established and widely recognised in the UK market, with the old adage 'if it ain't broken, then why fix it' a valid argument against a brand overhaul. But, as Mike Bewsey, Sales & Marketing Director, explains, the new look represents a concerted effort to ensure the brand's values and ethos is represented 'outwardly' in an accurate way.
He says: "The Comma brand has done some great things in the past and this has helped to achieve a good level of recognition in certain markets. That being said, we have to admit that the identity in our products – across all groups – has been a bit inconsistent. Our packaging, for example, didn't always allow the user to identify that the products came from the same company. Furthermore, it had become a tad outdated and didn't truly reflect the quality of product that was inside.
"Packaging is just a small part of the bigger picture though, as once we'd decided to re-address the brand strategy it was important that we were able to come up with a strong summary of what Comma stands for and, as importantly, how we could develop an identity around this."
To assist with generating ideas, Comma commissioned a specialist brand agency to help ascertain what the brand meant to employees, customers and users alike. Once some clarity had been established in this area, it was then important to identify the markets and audiences that were being targeted.
"Our investigations with distributors and workshops highlighted the importance for a B2B aftermarket brand to command confidence. This seems like an easy thing to take for granted, but in the B2B aftermarket, it is fundamental for distributors and workshops to have peace of mind that they are using top quality product.
"The key conclusion was that we should concentrate on our strengths; namely that we produce top quality technical automotive servicing and maintenance lubricants and chemicals, specifically aimed at the trade. Additionally, we also had to explore how/why the Comma brand is different to others in the market place and how we differentiate from the competition. After a great deal of soul searching, and no shortage of hard thinking and graft, the fruit of these labours is now there to see and we're delighted with the results.
"Comma's unique compatibility guarantee underpins these high principles of quality," adds Mike.
You can find out details about the key changes to Comma's branding, and how it is likely to affect technicians, elsewhere in this article but it's safe to say that very few top brands can get by without an inspired slogan to encapsulate the offering. Confidence comes from within has been adopted as Comma's own motto, and whoever came up with the tagline deserves a decent bonus. Simple and catchy, the double-entendre sums up the plans for the brand moving forwards as its compliance with the stringent ACEA regulations and high quality levels of production, testing, development and support means that Comma, and its customers, can feel totally confident about what is in the bottle.
National roll-out plans have commenced and Comma is making visits to both garages and distributors alike to educate customers further about the rebrand and to prepare them for the eventual globalisation of the range.
WHAT STAYS THE SAME
HERITAGE & CORE VALUES
– Global standard manufacturing and product quality testing procedures, using ExxonMobil base oil stocks and industry leading chemical additive packages.
– ACEA, API and vehicle manufacturer- approved product credentials.
– Unique Compatibility Guarantee allied to flawless product selection tools.
– High level customer support, product training, distributor and workshop work-outs.
– Benchmarking to provide market insight and understanding.
– Sell through programmes and promotions to support distributors and end users.
MOTORSPORT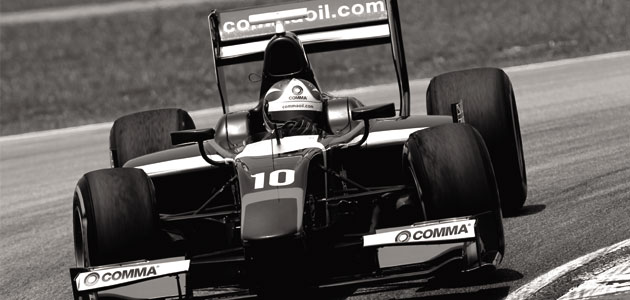 Continued involvement internationally with Jolyon Palmer in GP2, and domestically as Technical Partner to the BRDC Formula 4 championship and 'PalmerSport', arenas that have all proved invaluable test beds and proving grounds for Comma products.
WHAT' S NEW?
BRAND NAME
Comma is now part of Cosan Lubricants. Comma will be positioned as a category brand of Cosan Lubricants.
LOGO
A simple, sleek new logo has been introduced – the design of which is based around the brand's new motto: Confidence comes from within.
PACKAGING
Uniform appearance for easier identification and contemporary image.

PERFORMANCE MOTOR OILS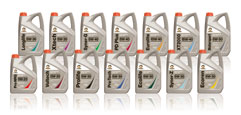 A revised PMO portfolio coincides with the rebrand. PMO grades have been reduced from 15 to 14 to rationalise the range and applications. Two important new grades have been introduced; one for full hybrid vehicles and the other for Volvo marques.
LABELS
Includes easy-on-the-eye technical information and specifications, as well as simple product/spec identification.
SUPPORT TOOLS
Leaflets, adverts and brochures have all been redesigned to convey the messages of the brand strategy.