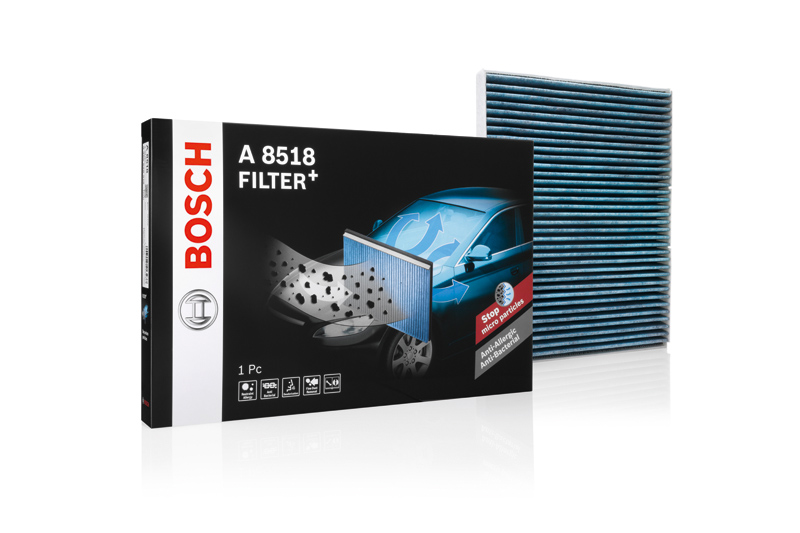 ---
Here, Bosch explains how its cabin filters can protect vehicle occupants and promote a clean and healthy cabin environment.
---
Air conditioning systems have now become standard equipment for almost all passenger cars. During the summer, this means pleasant cabin temperatures can contribute to stress free driving and, in the winter, they dehumidify the air inside the cabin and prevent windows and windscreens from fogging up.
For their reliable operation, A/C systems need sufficient refrigerant and regular maintenance.
Reduced cooling performance and unpleasant smells inside the cabin can be caused by a defect in the A/C system, insufficient refrigerant in the A/C system or even a clogged cabin filter. Since A/C systems naturally tend to lose refrigerant throughout the year even without any leaks, almost all vehicle manufacturers recommend having the air conditioning system checked and maintained at least once a year, preferably in spring.
With a professional air conditioning service, workshops perform a leak test, drain the system and refill it with the optimum amount of refrigerant. The Bosch models used for this procedure recover and reuse up to 99% of the refrigerant. This makes air conditioning servicing environmentally friendly, reducing wastage and saving money.
Replace cabin filters every 9,000 miles or once a year
As part of the maintenance of air conditioning systems, cabin filters should also be replaced. In general, Bosch recommends replacing cabin filters once a year or every 9,000 miles. Bosch offers a range of over 500 cabin filters covering 99% of vehicles in the UK and Ireland vehicle parc.
An optimum change interval is in early spring before the pollen season starts. Bosch cabin filters reliably separate pollen and fine dust from the air. In addition, a correctly functioning cabin filter can also protect the air conditioning system and improve the visibility by reducing the amount of deposits settling on the inside of the windscreen. Besides standard filters, Bosch also provides activated-carbon filters. These filters also retain harmful and foul-smelling gases thus reducing the concentration of pollutants inside the cabin.
In addition and particularly beneficial for allergy sufferers, Bosch has developed the FILTER+ range. It is estimated that 16 million people in the UK have an allergy to airborne particles. That's around one in four. The FILTER+ filter separates up to 99% of all particles with a diameter of up to 2.5 micron, so-called 'fine dust'. With its anti-allergy layer, allergens and bacteria are neutralised before they enter the vehicle's cabin.
Cabin filters represent an untapped profit potential for Workshops. A recent survey showed that approximately only 10% of drivers changed their cabin filters in the last 12 months and 65% of cars in Europe are running with a contaminated cabin filter. When you consider that Bosch recommends changing them annually or every 9,000 miles, the number of untapped sales is substantial.
To ensure workshops are able to take full advantage of this opportunity, a downloadable poster containing fitting times and component locations for the top 100 best-selling vehicles is available here. The installation instructions can also be accessed via the QR code on the product packaging itself.
Bosch A/C service units and training courses
To keep a vehicle's A/C system in prime working order and avoid expensive repairs, Bosch recommends A/C servicing once a year and that's become big business for forward-thinking workshops.
With nearly 90% of cars in the UK now having A/C systems, but only 56% of independent garages have the necessary equipment to service A/C systems, those investing in the right training and equipment are making very healthy profits.
Recent additions to the Bosch air conditioning service range of A/C service units all boast a 99% recovery rate, giving workshops a return on investment (ROI) on the recovered gas alone.
The Bosch range of air conditioning machines is said to encompass the requirements of all workshops. This includes fully automated operation and the ability to service hybrid and electric vehicles. To view the full range of Bosch A/C machines, visit www.boschaftermarket.co.uk.
Please note any air conditioning servicing must be carried out by a qualified person, which requires specific training. Bosch offers A/C training courses, notably Air Conditioning Systems Diagnosis (VSB26) and Refrigerant Gas Handling (AC1RHA). For further details and to find the nearest Bosch Training Centre, visit www.bosch-training-solutions.com/gb/.
---
As an extra incentive, Bosch will be offering special pricing on selected Bosch Air Conditioning units from 1st April until 30th June 2021. For more details, contact your nearest Bosch distributor.