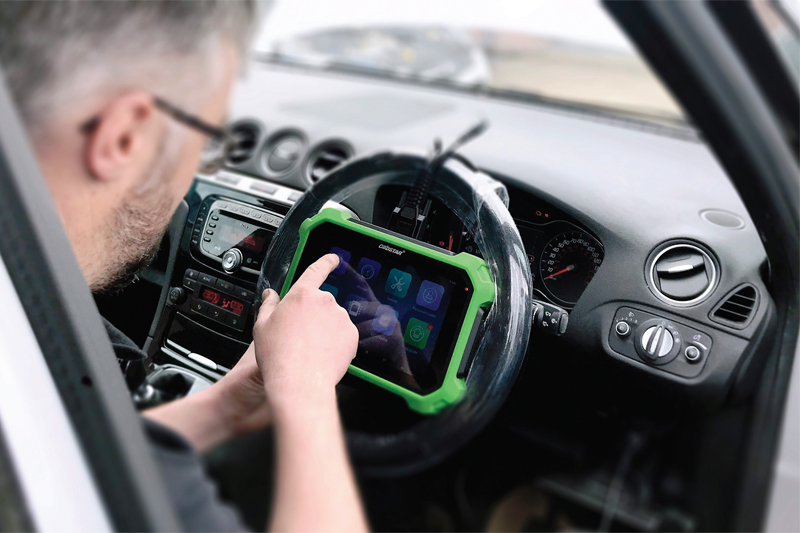 ---
Ravi Kotecha, Managing Director at Autowave, presents the case for introducing auto locksmithing into your diagnostics offering.
---
Diagnostics carries such a broad meaning these days. If we look back 10 to 15 years ago, many independent garages would call a specialist auto electrician when they needed a vehicle scanned. In those days, devices would cost a lot more and do a lot less than is possible today; information wasn't readily available, and the area was considered quite specialist.
Fast forward to the current market and it is fair to say that pretty much every independent garage at any end of the spectrum has some form of diagnostic device. Even to carry out a brake pad change can have a requirement for a diagnostic tool. It has also become normal for independent garages to carry out coding on vehicles that would have previously been considered 'specialist', but the complexities of modern vehicles have made this a necessity, and luckily the plethora of information available has made this very doable.
Vehicles have so many modules and electronics that it is not always possible to use old school techniques. So, what is the next phase of this evolution? We hear about hybrid and electric vehicles every day and it is clearly a massive growth area, but something that has slipped under the radar for so long is key and immobiliser programming.
Auto locksmithing had been considered such a specialist area for so many years – key programming equipment was very specific and carried a high cost; however, this is not the case now. Traditional locksmiths have ventured into auto locksmithing as they know about physical keys and locks, however automotive technicians know about vehicles so there is value in both areas of knowledge, and both can be adjusted to handle auto locksmithing.
As diagnostic tools have developed, many now have the ability to program transponders and remotes, and the cost of equipment has reduced dramatically. It seems like an area often avoided and we see so many customers being referred to main dealers when, in many cases, it is a relatively straightforward process and there is a whole host of training and guidance available.
We often see jobs being turned away or outsourced as 'it might be your key', so the customer will go elsewhere to rule out an immobiliser fault before even considering returning to the independent garage to continue with a diagnosis. However, if a spare key was offered there, then it would be a different story.
Diagnostic devices used every day can program ECUs, instrument clusters, and body control modules, so what is stopping you from offering a spare key service? The price of remotes and keys has also come down massively and the advancement of the aftermarket has stopped the need to buy them from the main dealer.
Specialist aftermarket suppliers can supply remotes and keys at a fraction of the cost that the dealer would charge, and the profit opportunity is huge. To give you an idea of margins involved, for a 10-year Ford, Renault, Peugeot or Citroen, an aftermarket remote can cost from £15-£40 to buy from the Autowave reseller network. This can be programmed within 15 minutes and charged to the customer at £120-£150; and most independent garages will likely have the equipment already, with the ability to do it.
When you scroll through the menus of your Autel, Launch, Xtool or other devices, how many times have you noticed 'program keys'?
If you look back at how many customers have walked through the door asking for a spare key, or how many customers have dropped their vehicle off and handed you a remote key which looks like it is falling to bits? I am sure there have been quite a few.
Auto locksmithing is becoming accessible to the independents and the margins are high – there are some huge opportunities ready for the taking. Lots of garages have already got involved and there is plenty of space for more. Keep your eye out for future articles showing detailed case studies and information as we keep you up to date with this exciting area of automotive.
---
To find out more about Autowave, click
here
.