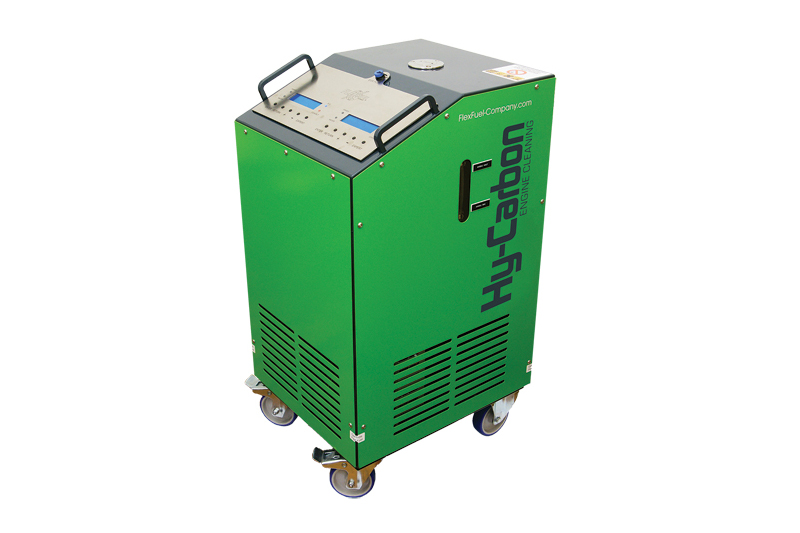 ---
FlexFuel Energy Development UK (FFED-UK) will once again be exhibiting at MECHANEX, Sandown Park on 12th-13th November.
---
Since the last show, FFED-UK has reportedly gone through rapid growth, now boasting in excess of 150 garages offering its flagship product the Hy-Carbon 1000s and a UK staff-count of 25 people.
At this year's show, the company will once again be demonstrating its Hy-Carbon 1000s machine. Hy-Carbon is said to reduce engine emissions and fuel consumption and increase engine performance. By injecting hydrogen into the intake manifold, carbon deposits are eliminated from key engine components responsible for performance and emissions – the admission valves, the EGR valve, the turbo and the particle filter. Independent engine tests post cleansing reportedly showed up to 50% less emissions; the return of engine power and reduced fuel consumption.
FlexFuel also has plans to bring its Hy-Carbon 3000s machine to MECHANEX, which is described as being suitable for larger commercial vehicles.
Is hydrogen cleaning just for older vehicles? 
Hy-Carbon is also said to have a large impact on relatively new, low mileage vehicles. An independent report conducted by UTAC, the official automotive testing lab for the French Government, and certified by the European Union, showed that a 2018 Volkswagen MkVII Golf with 10,000 km on the clock saw a significant reduction in harmful emissions.
Golf VII 2018 6cv euro 6
 
Before treatment
After treatment
Reduction
HC
35.84
28.195
21%
CO
197.843
168.813
15%
CO2
141.049
139.859
1%
NOX
18.418
18.023
2%
NMHC
30.097
22.926
24%
CH4
6.358
5.832
8%
PN
2.32E+12
3.30E+11
86%
FlexFuel now has around 50 outlets offering hydrogen engine cleaning across the UK, and demand is reportedly increasing.
What do the garages say? 
One recent customer, Offmore Road Garage, has treated in excess of 30 of its regular customers vehicles with Hy-Carbon and increased its turnover over previous months by at least 10%.  Customers are said to be publicly acknowledging the difference the treatment has made in terms of engine responsiveness, quieter engines and significantly improved fuel economy.
One customer, David Hill, commented: "I drive my Audi A5 diesel on a regular round trip to Liverpool – about 212 miles. My economy was around 53-54 mpg. Offmore Road Garage suggested a HY-Carbon treatment given the age of my vehicle and it having done 140,000 miles. Following the HY-Carbon treatment, on the same round journey to Liverpool I returned with figures of 63mpg – an 8.5% improvement. Genuinely, I was surprised at the improvement not only to my fuel economy, but the engine feels more responsive and is less noisy."
---