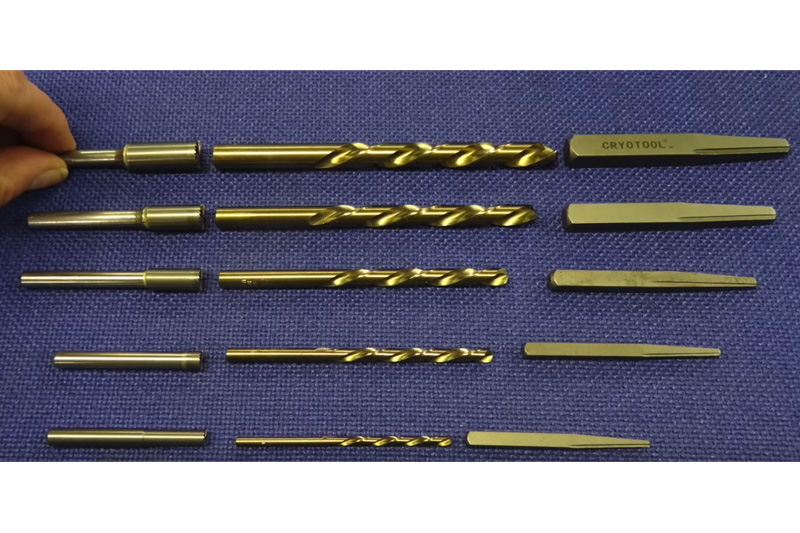 ---
Cryo Ex-Tract from NCH Europe.
---
Broken screws, studs and bolts have long been problematic for mechanics. Unreliable extractors and specialist removal systems incur high costs and unnecessary downtime.
Most threaded fasteners, including screws, studs and bolts can often shear off as a result of corrosion, misalignment and poor application. Fasteners rarely break off cleanly either. When metals are worked, sheared or hammered, they have a tendency to become harder than the base metal. When this work-hardened screw breaks off at an irregular angle, it leaves a high tensile-strength threaded section seized within parts of industrial plant equipment and machinery such as a flange, casing, cylinder head, sump or gearbox housing, making it almost impossible to remove using conventional screw extraction methods.
NCH Europe has developed an extraction system called Cryo Ex-Tract.
The first is Cryo Ex-Tract End Mills, a range of five End Mills manufactured from Cryophase treated tungsten carbide. This process involves cryogenically freezing the product to harden it. With a speed rating between 17,000-22,000RPM the End Mills can machine metals with a hardness of Rockwell 50 (HRC) and machine bolts up to and including grade 12.9. A toothless outer circumference prevents the End Mill from causing damage to existing internal female threads.
The second part is Cryobit LH 135, a range of Cryophase treated drill bits with a left-handed flute and 135 degrees split-point geometry, designed for use on any standard drill in reverse action, therefore assisting with any extraction, not tightening.
The third, and final part, is a range of hardened steel, straight fluted tap-in extractors that can bite into materials of up to 58 HRC and are designed to fit all standard ratchet sizes.
It uses Cryophase treatment to increase toughness while doubling the life of the component. The system offers three unique benefits. The End Mills work to flatten the irregular surface, left-handed drill bits are designed with 135 degrees geometry, are self-centering, and offer a fast starting split-point and, finally, the tap-in straight-fluted extractors ensure correct alignment.
---
For further information from
NCH Europe
, click
here.