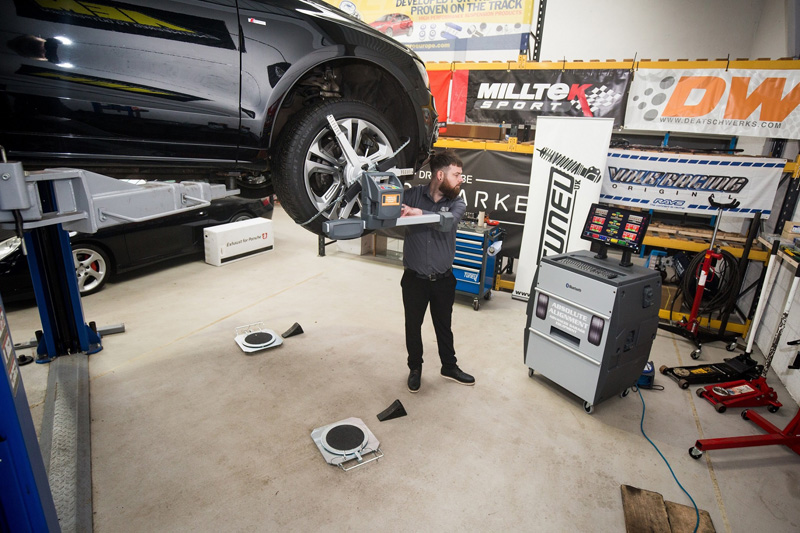 ---
Absolute Alignment has announced it will be at MECHANEX 2019, supplying information and advice on its range of  wheel alignment equipment, which can be used on a variety of vehicles from a standard recovery truck to a MINI.
---
Garages and workshops can offer four-wheel alignment services for commercial vehicles and passenger cars with Wheel Alignment's Bluetooth Pro Wheel Aligner, currently one of the company's top selling products.
The team at Absolute Alignment has the knowledge of setting up this six-sensor four-wheel alignment technology, which has been specifically designed for a wider customer base. The Bluetooth Pro Wheel Aligner is fully wireless and can be used with four and two-post lifts and in-ground wheel-free scissor lifts.
The direct contact charging and calibration system means the whole wheel alignment package is 100% cable free for a safe workshop. Each measuring head also has a remote control to allow users to run the full wheel alignment process from any corner of the car.
Chris Dear, Absolute Alignment's Technical Director, said: "Bodyshops need to be flexible in terms of the vehicles they can work on, to keep up with demand. The Bluetooth Pro Wheel Aligner is truly one of the most versatile pieces of wheel alignment equipment on the market today. It helps workshops grow their business profitably, while benefiting from first class training and support services from Absolute Alignment technicians.
"New for this year, an extension pack is also available which means that car recognition is almost immediate. Just input a vehicle's registration plate or take a photograph of the car on a tablet, and allow the sophisticated system to do the rest."
Absolute Alignment will be exhibiting at this year's MECHANEX coming to Sandown Park, Surrey, 12th & 13th November. Visit its stand to see a range of its products on display and find out more about its wheel alignment equipment.
---