---
Delphi Technologies' UK Marketing Manager, Julian Goulding, explains the importance of a timely and high-quality top strut mount replacement.
---
Despite complaints about roads getting worse, consumers expect a high level of ride refinement and reduced NVH (noise, vibration and harshness) levels. NVH puts a substantial strain on a vehicle's suspension and steering systems, with components suffering accelerated wear and negatively impacting the comfortable passenger environment offered by many cars on the roads today.
Components such as wishbones, ball-joints and link stabilisers are relatively common failure points, but the top strut mount is often overlooked. Its cushioning effect can be severely compromised by a worn part, but symptoms tend to be missed or misinterpreted.
Julian explains, "The strut mount isn't just an integral part of the suspension; it also acts as a steering pivot, helping to provide a smooth and responsive ride. These two main purposes – insulating the strut from the vehicle, reducing noise and vibration, and acting as a steering pivot – make the strut mount as important as any other steering or suspension component. So replacement of worn parts and use of OE-quality mounts is absolutely crucial if garages wish to provide a service that exceeds customer expectation in terms of price, performance and durability."
Used with vehicles featuring the traditional Macpherson strut-type suspension, the top strut mount often contains a bearing, which enables the steering pivot functionality – if you turn the steering wheel from right to left, the strut pivots in the mount to control the angle and alignment of the wheels. When a vehicle is in use, it obviously puts huge stress through the top strut mount, namely because it has to take the full weight of the vehicle's shock absorption and steering; the mount is constantly at work. This makes the component prone to wear and, ultimately, failure.
"A typical strut will go through millions of cycles in its lifetime – up to 1,750 times for every mile driven," Julian continues. "Poor road surfaces and demanding conditions can make these cycles even more frequent and demanding."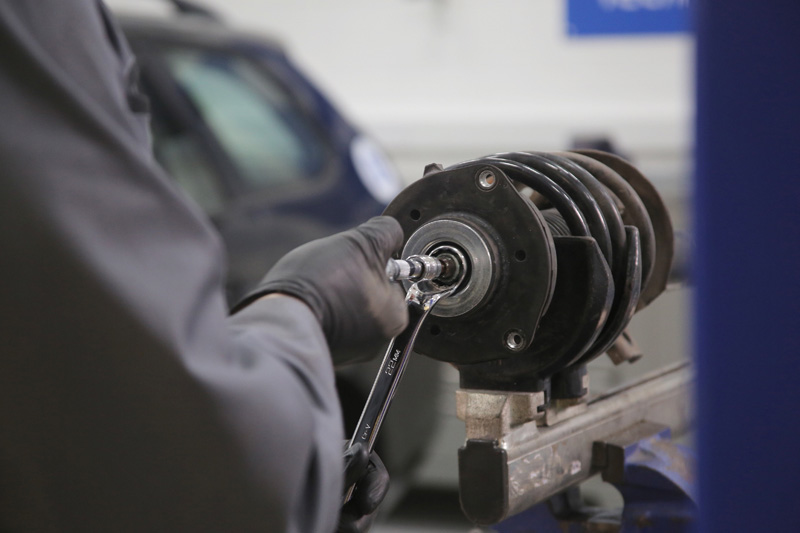 Symptoms and replacement
Goulding explains that there are common signs that a top strut mount is ready for replacement, including clunking when driving or squeaking during low speed manoeuvres, uneven or accelerated tyre or shock absorber wear, excessive vibration, poor wheel alignment, and sub-optimal steering return. Of course, visual checks should complement any road tests, so make sure to check for signs of corrosion, damaged rubber, or separation from the metal, which results in excessive movement in the strut assembly. The steering pivot can also be quickly checked for smooth and quiet rotation.
Julian added, "The problems lie in that top strut mount replacement is not part of the traditional service schedule and they're often overlooked during health-checks. Components should be replaced in pairs, ideally, to avoid jeopardising driver comfort and handling; if one side is worn, it's a fairly safe bet that its twin will be in a similar state. Delphi also recommends replacing the top strut mount when struts or springs are being replaced to avoid labour-intensive replacement of what is a relatively low-cost part."
OE quality
Delphi is keen to highlight the importance of using components that are engineered using OE materials and manufacturing processes. "Offering customers a service that reduces the risk of returns due to premature part failure or reduced performance is a significant competitive advantage," says Julian. "Use of an OE-quality component maximises service intervals and promotes the feeling of value for money."
The company has recently added to its range of top strut mounts, which now features over 100 part numbers and covers more than 7,900 popular applications in the aftermarket, including BMW Mini, Ford Fiesta and VW Golf, which is over 90% of European applications. Each component is manufactured using the same rubber compounds, plated steel, and bonding techniques as the rest of its rubber-to-metal range, providing what the company calls 'the optimum combination of strength, flexibility and noise and vibration reduction, while ensuring a smooth and responsive ride'.
Julian concludes, "To streamline the vehicle repair process and ease the lives of parts managers and technicians, Delphi provides all the necessary fitting accessories, as per the OE. This ensures that the risks of incorrect ordering or repair delays are dramatically reduced."
---
For more information online, including
Delphi Technologies'
video tutorials and free technical tips,
click here.