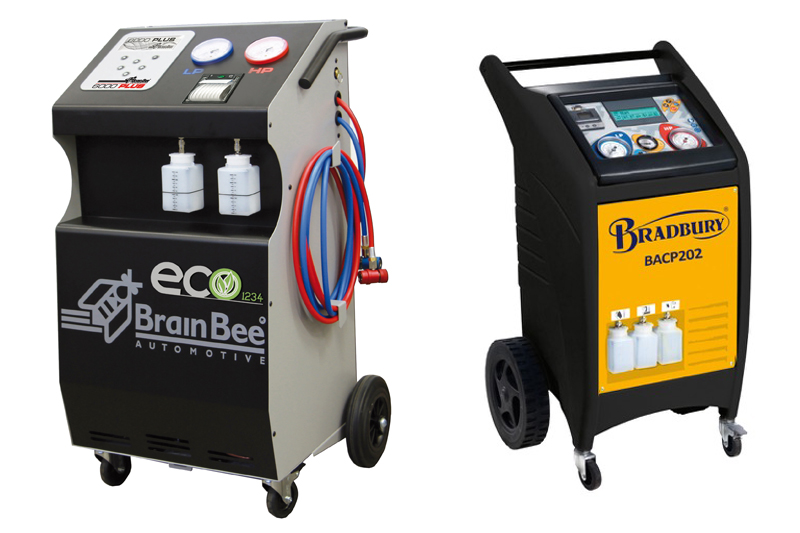 ---
Considering the revenue opportunities available, the ability to comprehensively service A/C systems is an offering you can't afford to ignore this summer, says GEMCO.
---
Around 90% of your customers have A/C fitted to their cars, and therefore you already have an existing customer base for A/C-related repair and maintenance.
The modern A/C machine is an environmental recycling centre. It removes refrigerant from the car and separates oil. It also cleans, dries and stores the refrigerant for re-use. Most are fully automatic, taking between five and 10 minutes of your technician's labour time for each re-charge.
If you invest, approximately £3,000 to £3,500 in an A/C machine, some oils, leak dyes, a nitrogen leak test kit and technician training, you could expect to get payback in 12 months, based on just six jobs per month. This is based on a
£50 re-charge fee, minus the costs for oil, dye, refrigerant and labour. The estimated gross margin is 80%.
Leak Testing
Adding ultra-violet dye to every vehicle you re-charge will help you identify leaks faster. If the vehicle in your workshop has no refrigerant in the system, identified by zero pressure on the gauges of the machine, then you should pressurise the system with Oxygen Free Nitrogen (OFN) and investigate the leak with your ultra violet lamp.
Low refrigerant
The most common fault in the A/C system is caused by low refrigerant and a straight forward re-charge is required. All vehicles with A/C fitted lose between 10 and 15% of their refrigerant per year, so every two years the system will not work efficiently due to lack of refrigerant. Potentially 50% of your customers' cars will need maintenance every year. This does not include any additional work due to component failure.
The law
All technicians working with refrigerant gases must have an F gas certificate gained by attending an approved training course and passing the end of course examination (IMI or City & Guilds).
You will need an R134a machine for all existing cars and all existing models built this year, and for all cars homologated after 2012 you'll need a new R1234yf machine. Some dual gas machines are available, which can work with either system but you should decide if two separate machines would be a better buy for you. A dual gas machine can only work with one car at a time, whereas two separate machines could offer you more flexibility and the ability to work on two cars at the same time, boosting your profit potential.
GEMCO has recently introduced Brain Bee A/C service stations to its range, as a premium alternative to the Bradbury machines that it offers.
Brain Bee Clima 6000 station features
■ An HPV (high precision vacuum) pump to create and hold a fast vacuum for servicing and leak finding.
■ Patented system to 100% recharge car A/C systems faster than any other machine – in all conditions and temperatures. Most come with 'Eco Lock' patented hose couplers that prevent gas loss during connection to the car – good for the environment and your pocket, too.
■ Fully automatic operation.
AirNex
■ The next generation of A/C service stations, designed to work with today's cars and evolve to work with future vehicles.
■ 7" colour touch screen to view and input options, plus big analogue gauges to show everything you need to see.
■ Station updates and engineer interaction can be done remotely via WiFi for maximum efficiency.
■ Professional A4 job reports can be WiFi printed, emailed to your office PC or the customer's inbox.
■ Mid-level and above units can have optional communication with the car A/C system via an EOBD interface.
■ Remote viewer app for smart phone, including iOS.
---