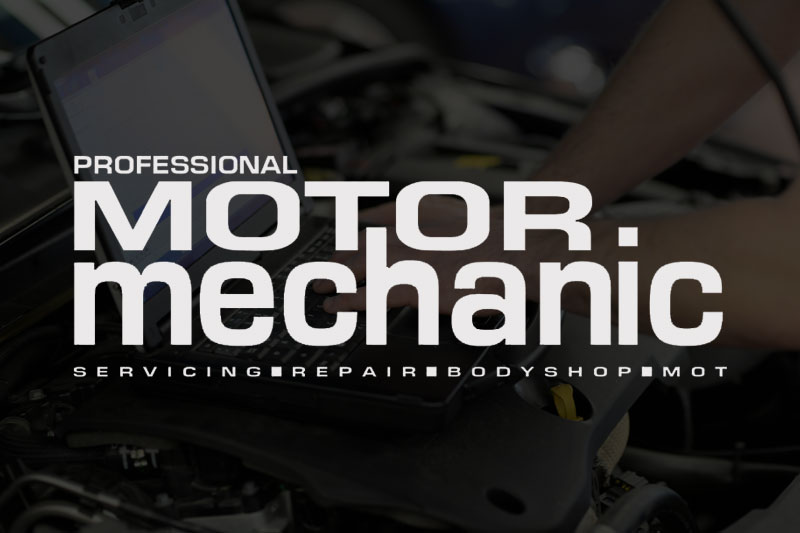 Bradbury Equipment explains why keeping your garage equipment well maintained can ensure that you avoid any future legal ramifications.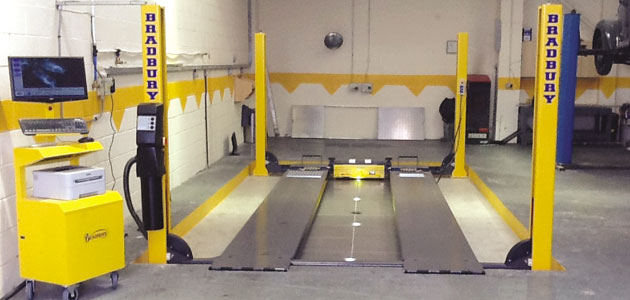 In the aftermarket, it's the responsibility of the garage owner to ensure their business meets the two UK regulations – LOLER 1998, which calls for a thorough examination of lifting equipment, and PUWER 1998 which mandates regular maintenance of work equipment, ensuring it is 'fit for purpose'.
When a lift is fitted many garage proprietors don't realise it's their responsibility to have a thorough examination (LOLER reg. 9) carried out to ensure it has been installed correctly and is safe to use. Should a garage fail to have this service carried out, and there is a subsequent accident, the customer may not be covered by their insurance company – potentially leading to a hefty fine and a prison sentence.
Once installed, a full service inspection of the vehicle lift is compulsory under PUWER Reg.6 and from then on all equipment must be serviced at least twice a year, not just looked at by an insurance company. If regular maintenance isn't carried out and records not retained, it could mean the business isn't covered by their insurer if an accident was to occur.
It's also very important to note that by not having the equipment serviced, the business is in breach of the HSWA, PUWER and LOLER laws and, if detected by the HSE, it will prompt a bill, via FFI, under The Health and Safety (Fees) Regulations 2012. Those who break health and safety laws are liable for recovery of HSE's related costs, including inspection, investigation and enforcement action.
As a company that is committed to quality, Bradbury will only install its equipment using GEA accredited engineers, all in line with the GEA Code of Conduct and the BSI standard for vehicle lift installation, known as BS 7980:2003.
While all of the checks here may seem in-depth, it's a relatively straightforward subject and help is on hand if needed. Any GEA approved service company will be able to assist in organising either a thorough examination or routine maintenance. More importantly they will make sure that the equipment is safe, reliable and maintaining its manufacturer's warranty.
WHEN SHOULD EQUIPMENT BE CHECKED
Seven days after installation you should check: The base anchor screw tightness, the tension of the motor drive belts and column fixing screw tightness.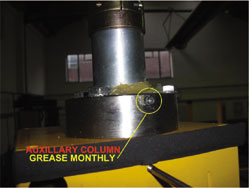 Every three months you should check: The tightness of the base anchor screws and tighten the connecting bolts with a torque wrench. Inspect the motor drive belt tension, tightness of all screws, arms locking systems and safety devices. Additionally you should monitor grease lead screw bearings at the top of the posts through the grease nipples, check there is some oil on the screw and the level of oil in the reservoirs and also clean/lubricate any internal ways (such as posts and carriage rubbing blocks).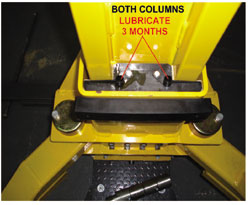 Note: When the main nut wears beyond a certain point, the mechanical locking system locks the lift at the bottom of travel, preventing further use.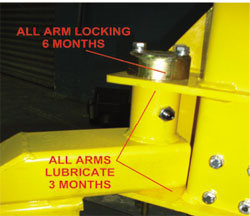 Every 12 months: A visual inspection of all structural parts and mechanisms – to verify absence of damage or malfunctioning – should be undertaken, as well as a test of the electrical system.
JARGON BUSTER
LOLER – LIFTING OPERATIONS AND LIFTING EQUIPMENT REGULATION
PUWER – PROVISION AND USE OF WORK EQUIPMENT REGULATIONS
BSI – BRITISH STANDARDS INSTITUTE
HSWA – THE HEALTH AND SAFETY AT WORK ACT 1974
FFI – FEE FOR INTERVENTION