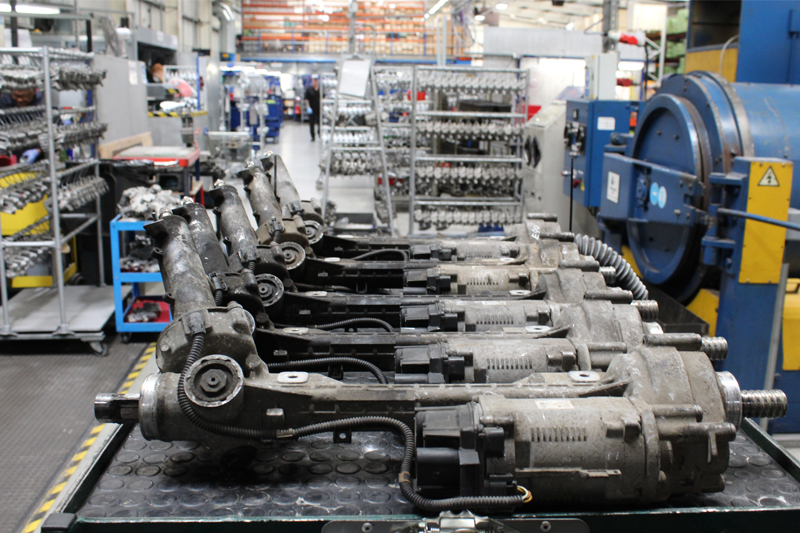 ---
PMM talks to remanufacturer Shaftec about how best to look after old core to ensure that you get the best surcharge return. The company is believed to have been the first UK remanufacturer of CV joints and driveshafts, so it knows a thing or two about this subject.
---
''At Shaftec, when they've passed our stringent returns criteria, old OE quality units are remanufactured to the same standard as new – and therefore should be treated by the garage in exactly the same way," explains Shaftec Director, Tom Curtis. "In an ideal world, before its return, the old unit should be fully inspected by the technician anyway to check for damage, or anything else that may have contributed to the reason for failure. If this protocol is followed and is responsibly placed ready for return, then there should be no issue of rejecting units due to poor handling post-vehicle. In our experience, rejection is almost always due to technician error and could easily be avoided."
Shaftec has invested heavily in the packing process to protect the units which will be returned: heavy duty carrying boxes made of strong, sturdy material and the machinery to deal with them efficiently. The business says it constantly monitors its packaging design to ensure best practice. For example, the boxes for steering racks now include a cradle in the box to hold the component firmly in place in the box, which should also be re-used on return of the old core unit. Top tips for the safe handling of mechanical steering rack core to ensure a unit is not rejected:
■ Pinion – Great care must be taken not to damage the pinion on a mechanical steering rack during or after removal. The pinion is by far the most delicate part of the rack. Forceful removal or placing the unit in a vulnerable position in the workshop will result in a very high chance of it being damaged, knocked by something heavy, or carelessly thrown to one side.
■ Pipes – These must be cut very carefully. This isn't always an issue and can at times result in a reduction of the surcharge. But Shaftec has seen cases where the pipes have been cut flush to the casting, making the unit unsuitable for remanufacture.
■ Electrical lug connections – These are almost always integrated into the actual rack and casting itself. A full rejection will be issued if they are damaged. A plastic electrical lug connector is obviously extremely sensitive to any stresses and will easily break, and is highly possible even if the weight of the rack is resting on it.
■ Electrical cables – This is complex loomed wiring. We have seen these cut by technicians, presumably to speed up the process of removal. This again will result in a full rejection as severance of these cables allows no economic way to remanufacture the unit.
■ Electric motor – This obviously needs to be present on the unit, but it also needs to be returned undamaged. Again, this is an easy mistake to make when not properly cared for during or after removal.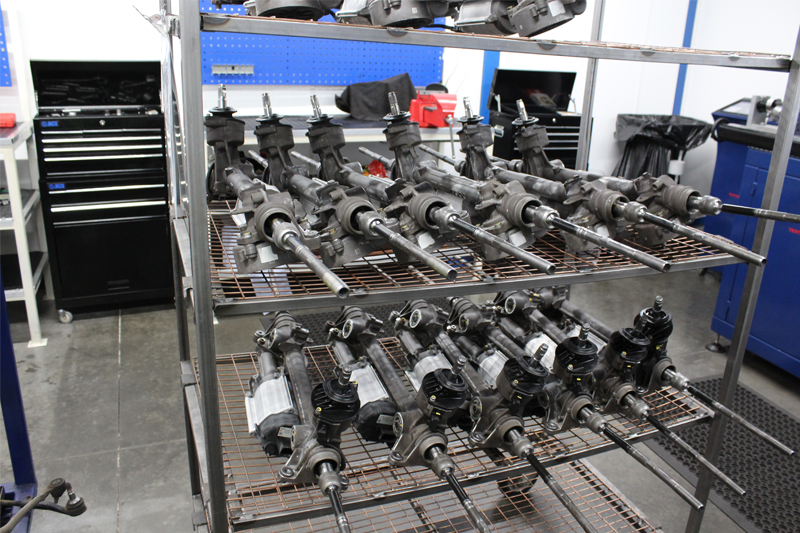 Recon & Return
In line with its central belief that remanufacturing is the way forward where possible, Shaftec operates a thorough, efficient and safe 'Recon & Return' programme for brake calipers, driveshafts, steering pumps and racks. Put simply, this means that if used core meets the returns criteria, Shaftec will recondition and return that exact part to you, as new – with the same warranty.
This is all done at the company's 42,000 sq foot Midlands-based facility. The factory is situated in Hockley, in the heart of Birmingham's industrial centre and is fully equipped with the latest machinery and technology for increased efficiency.
The criteria is bespoke to the product being remanufactured, but in all cases, the core has to meet certain safety standards so cannot be broken or cracked. The team then utilise state-of-the-art methods and machinery and always use new high quality hardware and perishable parts.
Tom Curtis adds: "Our Recon & Return programme adds yet another string to our bow – and is increasingly popular. A good example of how this works: a garage complained because we had rejected a rack with a damaged electrical lug, with the customer arguing that it would still work. When we proposed this service, suggesting that we would remanufacture that exact unit and give it back to them to fit, suddenly their opinion changed".
---