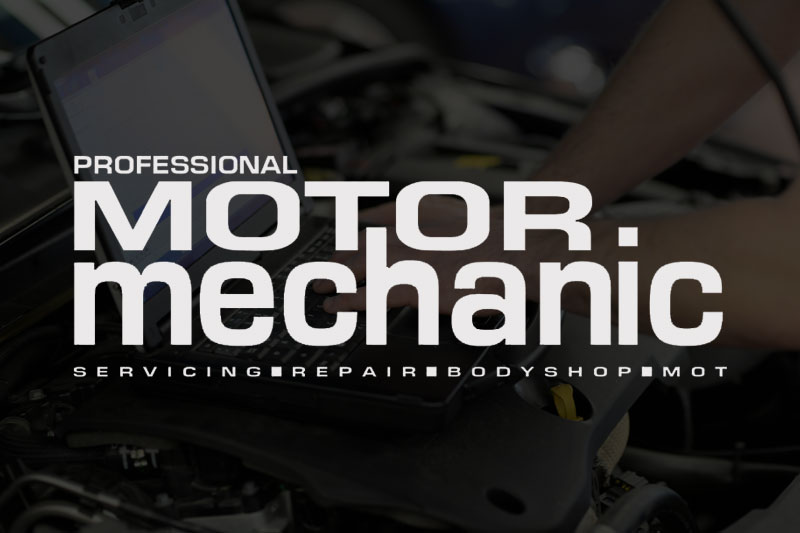 1. SIMPLE SETUP
First secure the Delphi YDT-35 on a work bench and then fill with a suitable calibration fluid (Delphi's calibration fluid p/n HAD400 meets the appropriate ISO 4113 standard). Pour the fluid through the filler neck until the level is visible in the sight glass and then fill the injector spray chamber until no air is present. Finally, connect the machine to a 5-10bar air supply and a standard mains supply.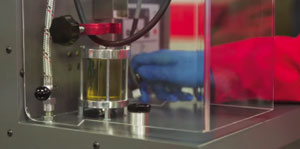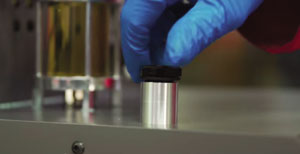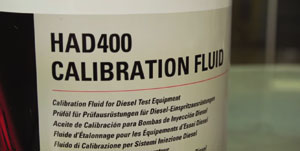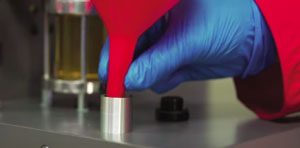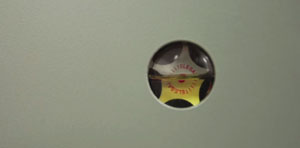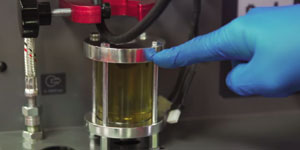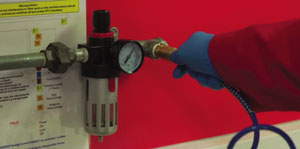 2. PREPARE THE INJECTOR
Before fitting the injector ensure the nozzle is free from contaminants; for this you can use either an ultrasonic rinse tank, or a soft wire brush, but remember to avoid the very tip of the injector.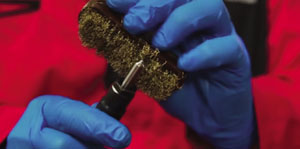 3. MOUNT THE INJECTOR
First lift the protective door and place the injector in the universal mount. Line up the spray chamber and tighten both the injector and chamber in place. Once secure, fit the flexible high pressure pipe and torque correctly to 35nm.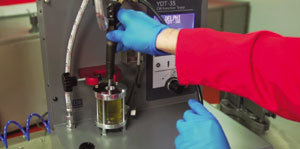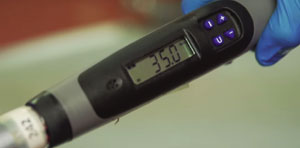 4. CONNECT BACK-LEAK PIPE AND COMPLETE SETUP
If you're using the optional back-leak measurement unit, connect it now. The final setup step then requires you to connect the electrical supply to the injector.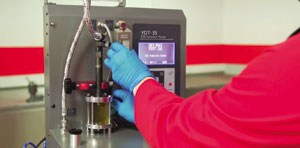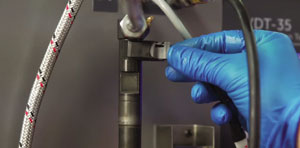 5. TEST THE INJECTOR
To begin press the injector button and select the correct injector. Note, however, that the test will not begin if the wrong injector type is selected. Press start and the machine will perform an electrical test on the injector. The results and limits are displayed on screen, clearly showing 'pass' or 'fail'. If the injector has failed the electrical test it cannot be repaired and must be replaced.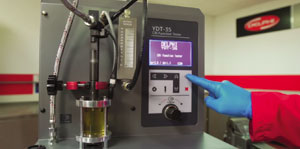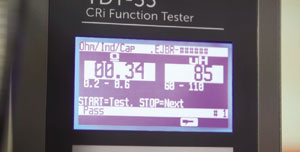 6. SPRAY TEST
If the injector has passed the electrical test, press start and progress to the spray pattern check. At this point the injector will be activated. Set the pressure to 600-700bar and allow the injector to run for one minute to ensure the air is purged from the back-leak unit. Then perform a visual check on the spray pattern inside the spray chamber – look for consistent delivery from each nozzle hole.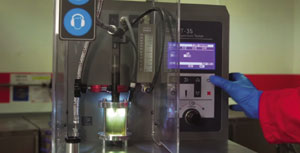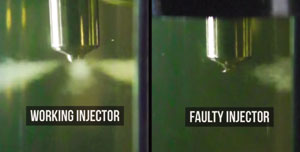 7. RECORD AND ANALYSE
Allow the spray test to run for 30-60 seconds and record the back-leak measurement displayed on the return flow unit. Repeat this for all injectors and then compare the data to identify which injector needs to be repaired or replaced.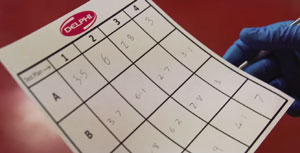 THE DELPHI YDT-35 COMMON RAIL TEST UNIT
HOW CAN IT BENEFIT YOUR WORKSHOP?
■ Simple, low cost, all-makes diagnostic solution for Common Rail injectors.
■ Identifies failed injectors so only faulty components need to be replaced, saving you and your customers time and money.
■ Rapid test cycle (under five minutes) for quicker diagnostics.
■ User-friendly guided operation to assist you in your diagnosis.
■ Easy fixtures with a comprehensive range of optional adapters.