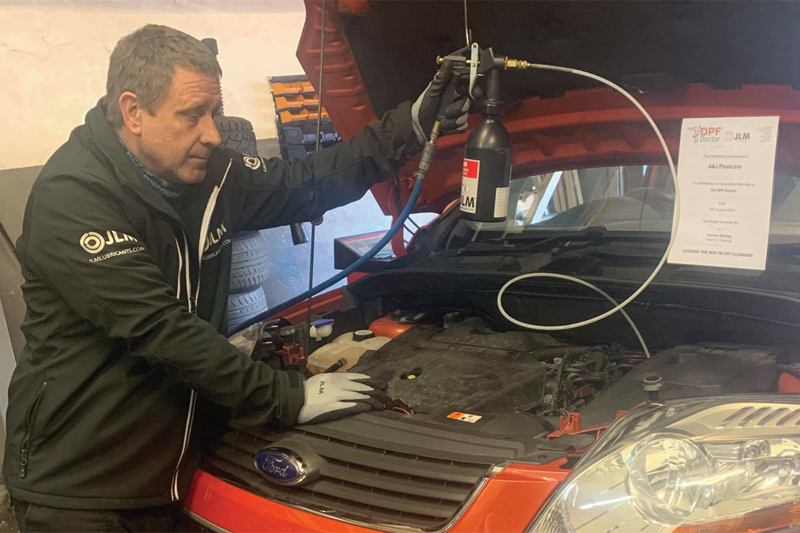 ---
In this month's DPF Doctor's Surgery, we hear how Alan Landal of A&J Fleetcare in Leeds puts his DPF training to good use with two vehicle case studies.
---
I can't start this month's case study without saying that for any technician, having a thorough and up-to-date understanding of modern vehicles is crucial. This entails having the right (and relevant) training.
That's why last year it was an honour for me and our small team to become part of the DPF Doctor Network. A&J Fleetcare were the 100th member, and we have not looked back since. Despite the pandemic, we managed to hold our heads way above water.
I have been in the trade for more than 35 years, but no amount of experience and on-the-tools training could have prepared me for the training delivered by Darren. It was top class – the best training and education I have ever received with superb products courtesy of JLM Lubricants.
Eulogy over, now onto business. Here, I will outline two case studies where the vehicles in question are presenting problems that were being attributed to the DPF.
Put in practice
There are a lot of misconceptions surrounding DPF filters. For many garages, their default position is to carry out a forced regeneration once the faults have been diagnosed and fixed when it's often unnecessary to do so. The DPF filter is far more reliable than most technicians think. It is self-cleaning and, so far, I can report that using the knowledge gained from the training I have just mentioned, we have had a 100% fix rate with great customer satisfaction.
Since becoming part of the DPF Doctor Network, we have carried out many DPF assessments. Two instances particularly spring to mind.
Case one
The first of these was a vehicle booked in by the local Hyundai dealer, and is a classic example of how our JLM products resolved a DPF issue. The 2016 Seat Alhambra had 28,000 miles on the clock and was showing a p2463 code – DPF soot accumulation code.
To begin, I carried out a DPF assessment, followed by the JLM Engine Oil Flush and oil filter change. I then completed a stage three DPF clean using the JLM DPF Cleaning Toolkit with the Clean and Flush Fluid Pack, followed by a reset of the DPF values. After a successful test drive, I reported a 100% fix to the dealer.
Case two
The second vehicle was an Audi A4 2LTDI 57-plate. I carried out a DPF assessment, which subsequently recorded a fault code: P2002 Particulate trap, bank 1 – efficiency below threshold. The DPF pressure was over 2,000 mbar!
The customer advised us that he was frequently having to top up the oil, and that the car had previously been fitted with a new injector and had had a forced regeneration.
We carried out a relative compression test, which confirmed low compression in cylinder three. No amount of DPF cleaning would have solved this problem, yet the DPF was being blamed as the culprit! Our customer was very happy that for under £100 we had found the fault that other garages hadn't. Plus, he knew what had to be done to bring his vehicle back to peak performance.
---