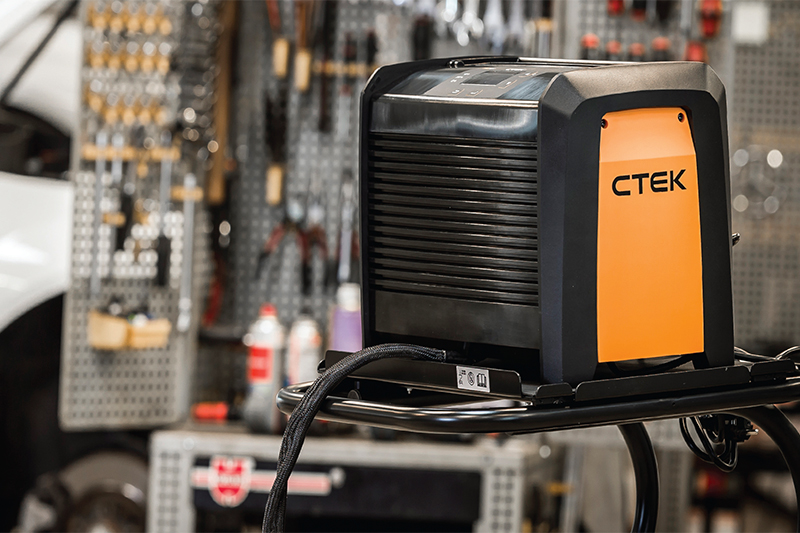 ---
Battery chargers are a feature in every workshop. Here, we take a look at an offering from CTEK – the PRO120.
---
The PRO120 from CTEK is a 12 V, 120 A battery charger and power supply, designed to meet the most extreme power demands in any workshop. With advanced design, technology and superior features, it's the ultimate choice for comprehensive professional battery charging, care and support in today's advanced diagnostic workshop. There are certain functions that make the PRO 120 an essential piece of equipment for any modern vehicle workshop.
Supply Mode
When undertaking diagnostic procedures, you should always use dedicated Battery Support, as opposed to battery charging. The PRO 120 SUPPLY mode delivers a supply of clean, constant voltage that can quickly react to any peaks in demand on the battery. A standard battery charger will struggle to cope with these sudden increases in current demand, which is when the battery, and possibly the diagnostic process will fail. On the other hand, a battery charger may actually increase battery voltage beyond operating levels, that can again cause the diagnostic process to fail.
In SUPPLY mode, the PRO 120 will also guard against loss of battery charge, protecting the battery from discharge when the work is complete, and the vehicle is back out on the road.
Selectable Voltages
Many modern vehicles simply won't even start communicating with diagnostic equipment unless a specified voltage can be seen across the vehicle system – and this varies from manufacturer to manufacturer. The PRO120 has a variable yet extremely stable output, offering total flexibility for the user with selectable voltages between 12.6 V and 14.8 V available, selectable in 0.1 V increments.
Unique Convection Cooling
Voltage going to the ECU must be maintained at a specified voltage – the slightest drop in voltage and it can break the line of communication, with a potentially disastrous outcome. Battery support units deliver high levels of power over a relatively long period of time, and as a consequence they can generate a lot of heat. As a safety precaution, many units are set to de-rate. This is a process whereby the unit will reduce charge levels, and at really high temperatures reduce current output. The PRO 120 has an innovative design that allows for convection cooling through a central cooling core, which eliminates the need for cooling fans and improves operating efficiency and reliability – put another way, it' won't de-rate. Unique 'Resonant Converter' transformer technology delivers high levels of current with high efficiency and stability even at high ambient temperatures.
12 V batteries
The PRO120 restores, charges and reconditions the battery using a patented multi-step charging process. It's compatible with all types of 12 V battery, including lithium (LiFePO4). The PRO120's unique patent applied for Adaptive Charging mode automatically recognises the size of the battery and selects the optimum charging settings for the fastest charge – making operation quicker and easier than ever.
The PRO120 is designed for use in the toughest workshop environment and is built to last. It is supplied with 5m cables and heavyduty clamps, and its rugged impact-resistant polycarbonate casing incorporates a folding carrying handle, making it highly portable.
The PRO120 is approved by Mercedes-Benz GSP. The unit meets W 000 588 00 8100 charger requirements as described in Mercedes-Benz Workshop-Information- System (WIS). Mercedes highlighted its ability to "charge and recharge starter batteries without disconnection from the on-board electrical system", rapid response to any changes in power demands and ease of use.
---
Want to know more? For more information, click
here
.