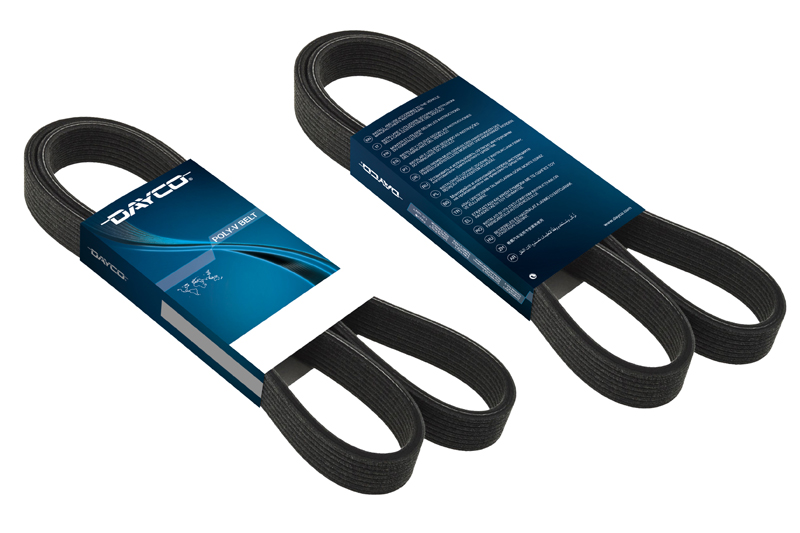 ---
Dayco explains some of the recent trends in engine system technology, and explains how technicians can generate additional revenue by changing the timing belt and water pump at the same time.
---
As they pursue the engine emission and fuel consumption reductions that have been imposed by worldwide legislation, there is a trend amongst vehicle manufacturers (VMs) to integrate more of their engine systems in a bid to attain the necessary efficiencies.
Whereas originally the auxiliary belt system would have been solely responsible for the water pump and the alternator, contemporary designs lean towards the requirement to power multiple components. This philosophy has also changed considerably over the last 25 years, however, as traditionally, vehicles might have used several belts that only had three or four pulleys/components to drive. The belts used in modern systems can have as many as 10, and in the process, terminology has also changed, as it is now generally referred to as the front end auxiliary drive (FEAD) system.
Alongside these developments, VMs have also broken with convention and sought to develop a combination of solutions that have resulted in an increasing number of vehicles with engines that now incorporate the water pump into the primary drive system, alongside the high pressure fuel pump, for example. This move has had a direct impact on the aftermarket, with the introduction of timing belt and water pump kits.
"There is complete logic behind changing both the water pump and timing belt at the same time," says Dayco UK's National Sales Manager, Steve Carolan, "as it provides garages with a profit opportunity, and their customers with the confidence that their vehicle has benefitted from a full and thorough system overhaul or repair. Sometimes, for the best of intentions, workshops will try to save their customers money and carry out a partial repair by replacing only the component that has actually failed or is specified for change in the service schedule. However, this policy runs the risk of their customers having to face a much larger bill for a full repair if the component that isn't replaced goes on to fail at a later date.
"Therefore, for the peace-of-mind of motorists, as well as the most profitable result for garages, Dayco recommends they opt for a full timing drive system replacement, rather than changing just the water pump or timing belt in isolation."
To allow its customers to benefit from this development, Dayco offers a range of more than 300 water pump kits that provide workshops with the opportunity to increase their profits by combining timing belt kit and water pump replacement.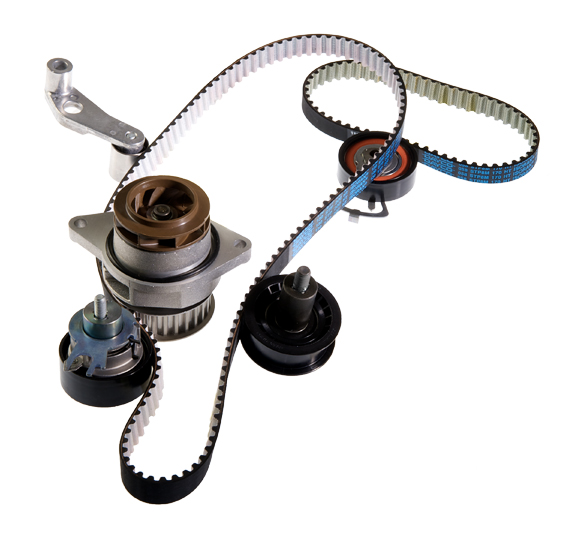 Three-year warranty
When fitting a patented Dayco High Tenacity (HT) or 'white' belt water pump/timing belt kit, Dayco can also provide workshops and motorists with an even greater level of reassurance by extending its existing two- year warranty by a further year.
The Long Life +1 year warranty is a perfect example of how the company can provide workshops with a 'real-world' competitive advantage over those fitting other brands. It also gives the motorist a level of protection that cannot often be matched, even by the franchised dealer.
Product and marketplace evolution
This constantly evolving approach to power transmission systems has led the VMs to rely heavily on specialists in order to deliver the solutions that this evolution requires. This has also driven belt technology, as both the toothed belts necessary for the primary drive and the poly-v (multi-grooved) belts that transfer the power through the FEAD system, have undergone significant development. Now, for example, many timing belts incorporate fibreglass thread and PTFE coating, while an increasing number of poly-v belts feature aramid fibres as part of their complex construction.
Another shifting trend is that VMs are beginning to include the FEAD system generally – but the auxiliary belt in particular – into their service schedules, which is a common-sense step, as not only do they cover the same mileage under similar operating conditions as the primary drive system, but the auxiliary belt invariably has to be removed to facilitate timing belt replacement.
Check & Change
"Another important factor that should not be overlooked," Carolan explains, "is the condition of the auxiliary belt. As it will need to be removed to carry out the water pump/timing belt replacement, technicians have the ideal opportunity to examine not only the belt, but the auxiliary tensioner and idlers for any wear, and to replace them where necessary.
Carolan commented, "To help technicians correctly assess the condition of the belt, they should use a Dayco aWEARness gauge, which provides them with three ways to check whether the belt needs to be replaced or is okay to be reinstalled. The two most relevant to a standard EPDM belt are the wear indicator bar, which highlights material loss, and the profile indicator, revealing whether the belt retains its correct form. Both reflect the level of wear and if the belt fails either check, it must be replaced."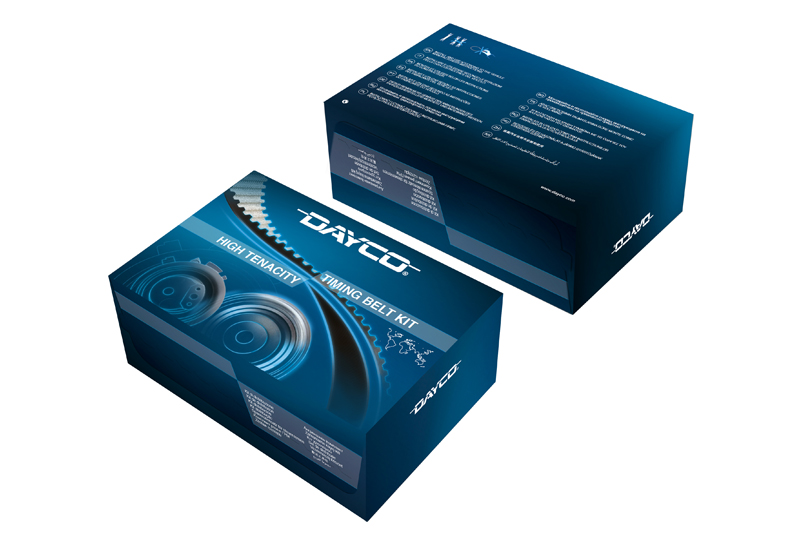 New-to-Range
Designated by the KTBWP classification, each kit includes a water pump alongside the belt, tensioner and idler combination, with many of these references containing an HT belt. This premium range provides workshops with all the components necessary to undertake a full water pump and timing drive system replacement.
However, to ensure it can provide technicians with the most effective coverage, Dayco is consistently growing its programme, and recent additions to the water pump kits range include KTBWP2532 – for 2L petrol engines fitted to numerous Volkswagen Golf, Passat, Sharan and Bora variants, as well as the Caddy and Transporter LCVs and other VAG applications, KTBWP7941 – for Renault/Dacia 1.4 and 1.6L, KTBWP9940 – for the Vauxhall Insignia 2L CDTI from 2009-17 and KTBW9950 – for Ford Focus, Mondeo, Kuga, Galaxy, C/S – Max 2L TDCi and multiple PSA Blue HDi vehicles.
---