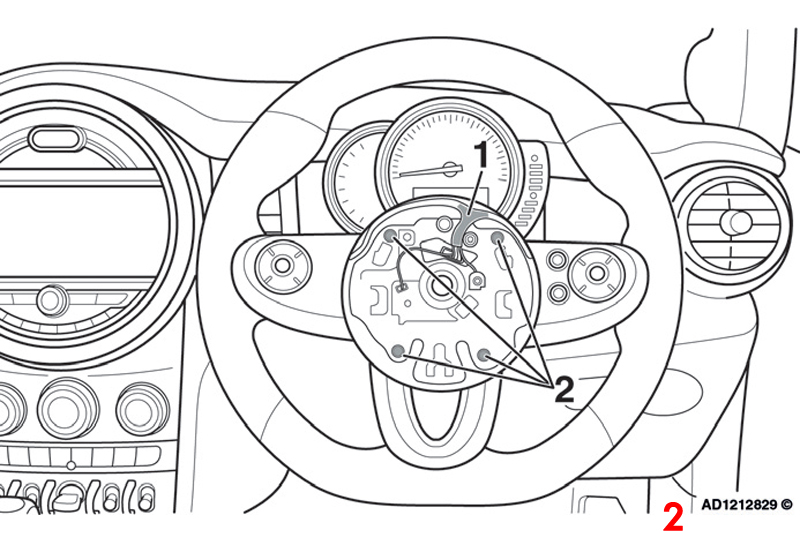 ---
In this regular column, Autodata's Technical Team share their fixes to common problems raised through Autodata's technical helpline, available to all UK customers.
---
Mini Clubman horn not working
Fault:
We have a 2015 MINI Clubman in for service and the customer has noted that the horn does not work. There are no trouble codes stored in the fault memory and the fuse is OK. Can you help?
Fix:
We have had reports of horns not operating on several MINI models produced from 11/2013. The fault is due to incorrect routing of the wiring harness in the steering wheel causing a poor connection between the driver's airbag and horn plate. Remove the driver's airbag module while observing the appropriate safety precautions. Check wiring harness in the steering wheel for damage and repair as necessary. Ensure steering wheel wiring harness is routed correctly in the area indicated (Fig 1.1). Steering wheel wiring harness should not snag on the raised sections of the steering wheel. Clean contact points on the horn plate (Fig 1.2). Refit the driver's airbag module. Check operation of the horn to ensure the fault has been rectified.
---
PMM and Autodata have teamed up to bring you Autodocta, offering expert advice and fixes direct from the Autodata workshop application. The company will be offering PMM readers an exclusive 10% discount off Autodata for your first year 
if you sign up with the discount code PMMADQ121 here. Simply enter the code when asked to receive your discount
.