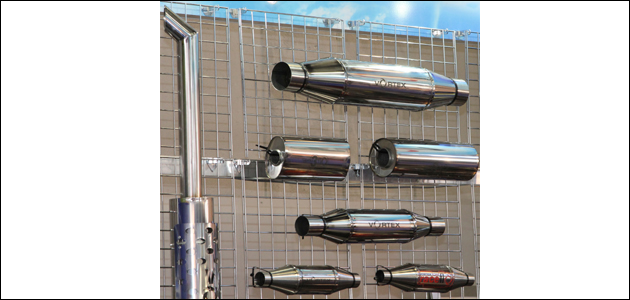 With longer lasting systems and a myriad of stocking complications how can Vortex claim to make things easier? The answer it says lies in the revolutionary and patented Vortex exhaust.
Capable of being fitted to almost anything with an internal combustion engine setting up as a Vortex dealer would offer a garage the chance to fit around 99% of all vehicles coming through the door, with very little stock investment.
Vortex is not a range of 'freeflow' silencers, nor is it a 'me-too' replacement for the original equipment. The clever, patented internal designs of the Vortex exhaust creates a turbine effect inside the silencer, causing a vacuum which literally sucks gases out of the engine, allowing it to breathe more easily and burn fuel more efficiently.
As a result all Vortex exhausts are guaranteed to deliver more power and more torque, yet at the same time reduce emissions and, best of all, will reduce fuel consumption (typically by around 7%-10%) and all without any re-mapping required.