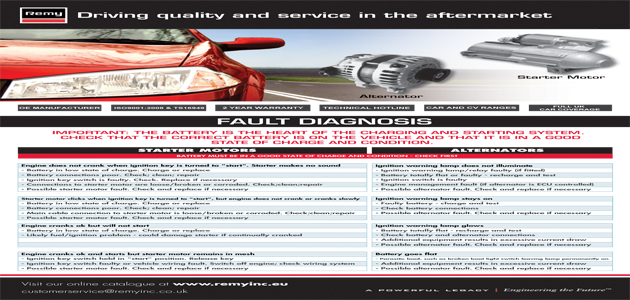 Remy Automotive UK, a leading rotating electrics manufacturer, has announced the introduction of a further 66 new-to-range starters and alternators for popular vehicle applications.
This increases the total number of part numbers in the Remy range to well over 4,000, covering a total of more than 35,000 vehicle applications. There are 53 new alternators and 13 starter motors added to the range.
New introductions to the range for popular vehicle applications include starters for the Audi A4 and A4 Avant, the Ssangyong C200 and various Hyundai and Kia models. New alternators introduced include the Mercedes C Class, the Mini One and Cooper, the Renault Kangoo and the Toyota Yaris.
All Remy rotating electrics products are of the highest quality, immediately available and come with a 24-month warranty.