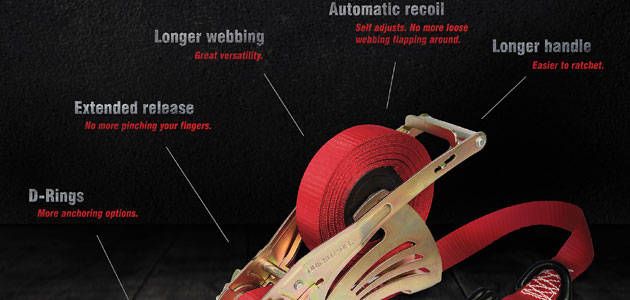 A new smart retractable ratchet strap that is fast, tough and easy to use is distributed in the UK & Ireland by Yorkshire based company Quickloader UK.
Quickloader is a fully retractable ratchet strap that works on the same principle as a tape measure. The Quickloader mechanism has an inbuilt brake system to lock off the webbing whilst deploying.
The Quickloader portfolio encompasses an entry level 800kg ratchet strap with 25mm webbing through to a 4000kg ratchet strap with 50mm webbing; all products having TUV certification.
A new addition to the Quickloader portfolio is QuickStrap; a soft bungee strap with a multitude of applications. Unlike traditional bungee straps with metal hooks which cause damage either to the person or product; QuickStrap is both user and product friendly.