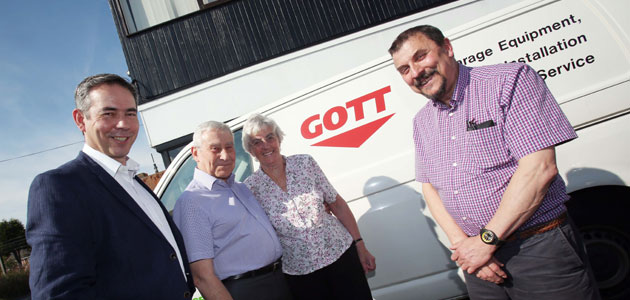 Family business succession has proved to be the driving force for one north-east-born market leader. Brian and Iona Gott, founders and directors of Gott Technical Services are fast-approaching their collective 70th year corporate anniversary.
In 1980, the entrepreneurial duo set-up their garage equipment supplier business from their spare bedroom and following six months of successful trading, made the decision to take the next step. Almost 35 years down the line, the pair has clocked up 68 years of combined industry experience, which they continue to instil into the now second-generation family firm.
At the age of 19, Ian Gott ventured into the automotive industry and following in the footsteps of his parents, began working within the business which eventually saw him take on the director role.
Primarily working across the north of England, under Ian's leadership, the business has grown its service area up to Scotland and across to the north-west and Cumbria regions – where it has seen increased demand for its services.
Both Brian and Iona remain an active part of the working culture. Brian, as Managing Director is responsible for the accounts, while Iona is the Company Secretary assisting across various departments of the business – including purchasing, administration and HR.
Brian said: "It's strange to look back and think that almost 35 years have gone by since we started out. If we've learned anything during that time, it's that working initially as a couple and now as a family, has only strengthened the business and brought us all closer together."
Longstanding team members Richard Walker, John Stainthorpe and Anthony Beal have experienced everything from turbulent market conditions to recruitment drives in their time at Gott with senior engineer Richard marking 24 years and John and Anthony 19 years each.
Projects Manager John Stainthorpe said: "It's been a pleasure working with the Gott family for the past 19 years and it will be brilliant to witness the landmark year in their careers in 2015. I think the main benefit of having a close-knit team is that we share common values."
Ian Gott said: "Employee retention is vital to our work ethic and with a 19-strong team, we've been able to rely on the core of those who have been with us through thick and thin. It's also great to see members of staff serving long careers with us welcoming the new, younger faces brought in along the way."