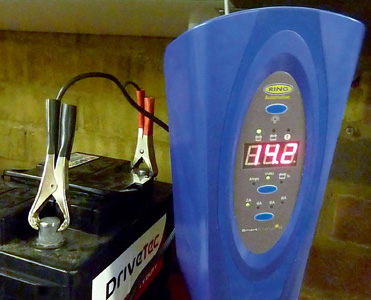 With so many electronic systems fitted to modern vehicles, optimum battery condition is of paramount importance to keep everything running smoothly. I have recently been using the Ring RSC508 SmartCharge +8, which is a midlevel model in a new range of compact and well specified smart battery chargers. It is a 12V charger that is suitable for re-charging and maintaining lead-acid, AGM, GEL and Calcium batteries on a wide range of vehicles.
Operation of the product is simple, with two touch buttons that allow you to select between charge outputs of 2, 4, 6 and 8 amps and also alternate between LED display of voltage, charge rate and charge status in percentage.
The RCS508 is a well-built unit with quality leads and crocodile clips and a built-in cooling fan that automatically cuts in and out as required to protect the charger from overheating. An LED work lamp that is powered by an internal button cell battery is a very useful feature and would be a great help if connecting the smart charger to a vehicle battery in dark conditions.
There is a retractable hanging hook neatly mounted on the rear of the unit or a charge station wall mount bracket is available as an optional extra giving you flexibility of how to keep the charger stored safely.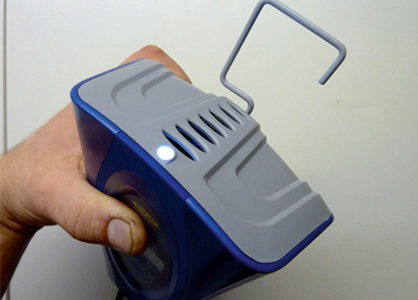 Before charging, a battery condition check can be performed at the touch of a button by connecting the positive and negative crocodile clips without the need for mains power. The full seven-stage 'smart charging' process comprises of de-sulphation, soft start, bulk charge, absorption, battery test, recondition and float which will recover discharged batteries and prevent damage whilst charging to peak condition.
I've had good results when recharging batteries that have been flat and I've also been topping up the batteries we have in stock so they are raring to go when sold and fitted. If you check batteries on cars that have been in for a service you will find that they are rarely at 100% of their capacity, so a smart charge to boost the battery performance is something that the customer will notice and benefit from.
Intelligent technology
For battery conditioning and maintenance, 'Internal Intelligent' technology allows you to leave the RSC508 permanently connected to the battery without the need to disconnect the terminals from the vehicle. During the test period of this tool, I unfortunately experienced an embarrassing non-start of my own car due to an aging flat battery. After a full smart charge process with the RSC508, its charge indicator sight glass recovered from a white dot to green and it has been starting the car and performing well ever since.
Verdict: The RSC508 is great value and has some useful and clever features which I have not seen on other chargers!