---
Martin Broadhurst, Team Manager on the British Touring Car Championship, details his experience using the Bosch GDR 18 V-160 Professional Impact Driver.
---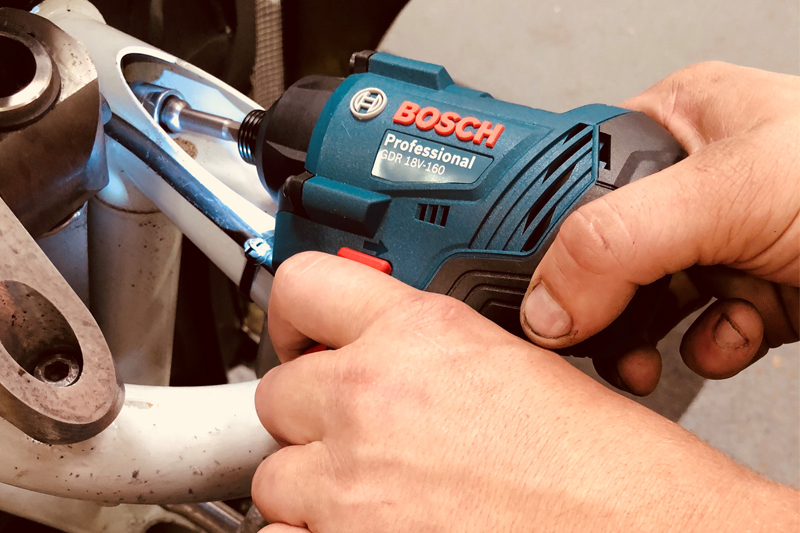 Consistency and reliability are two of the most important words in professional motorsport. From the cars themselves to the equipment we use, it's paramount that we can rely 100% on the tools we need come race day.
The Bosch brand has long been a byword for quality, and the brand's products have been used by elite level motorsport teams since time immemorial. We've used numerous battery-operated products during our British Touring Car Championship (BTCC) campaign, and have had many products let us down just when we needed them most. So much so that we've ended up buying multiples of the same tool to ensure we've always got what we need.
It's safe to say that we've regained our trust in the hand-operated battery tool market since using the Bosch GDR 18 V-160 Professional Impact Driver. We've put it to the test in every situation we can think of, and it's always come back asking for more.
As a top team in the closest-fought form of UK-based motorsport, action comes to us thick and fast. The impact gun and its batteries can sit unused for days on end, only to be pressed into service at a moment's notice. We've used the gun for everything, from slowly tightening low torque bolts securing body panels, to quickly inserting bolts into important suspension components, before torqueing.
The design has made it ideal for getting into some of the most awkward spaces on the cars, and where we had to resort to some interesting methods beforehand, this has shaved minutes off previous removal and installation times. It might not sound like much, but when we're fighting for thousandths of a second on the track, it can make all the difference. The low weight also makes it perfect for use in hard to reach, overhead situations. This has become our go- to tool when assembling the garage or awning at race events, which shows just how versatile a tool like this can be.
The Bosch GDR 18 V-160 Professional Impact Driver is ideal for professionals looking to raise their game without incurring additional spend. Perfect for heavy- duty automotive applications, the impact driver can make light work of any seized or solid material. Its versatile application range means it's ideal for assembling wheels, changing wheel nuts or engine bolts and working overhead or in confined spaces. Its compact, lightweight and ergonomic design means it can be used with little effort.
---
For more information on the range of tools available from
Bosch, click here.