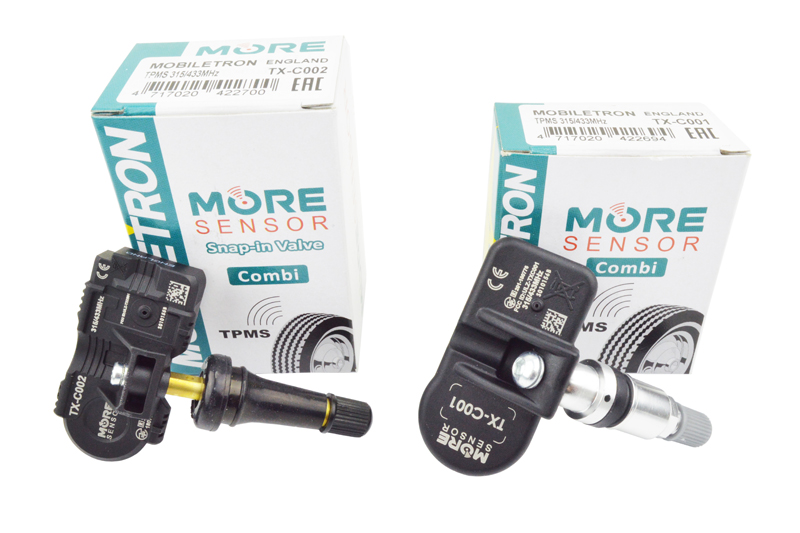 ---
Mobiletron UK has launched a wirelessly programmable Combi TPMS sensor for the European aftermarket.
---
The Combi sensor, which allows for both 433MHz (European applications) and 315MHz (American & Asian applications), is the latest addition to Mobiletron's TPMS product range and is the next generation in universal sensor technology, with several new and upgraded features.
The new sensors are said to cover all applications from Mobiletron's previous universal MORE sensors, providing coverage of over 96% of direct TPMS enabled vehicles – including new vehicles for the 2019 market.
The sensor is also equipped with an integrated memory chip to store more complete and self-contained protocols, allowing limitless protocol additions for the future as new vehicles and sensors arrive on the market.
The Combi TPMS sensor can be programmed using Mobiletron's PT46 or the ATEQ VT56, diagnostic tools and are available in both Clamp-in (Metal) and Snap-in types (Rubber).
A key feature Mobiletron has also included is a validation check in the programming software. This means that once the sensor has been programmed wirelessly, it is checked to make sure that the sensor has been programmed correctly. Mobiletron are one of a limited number of TPMS solutions that offer such a feature during the programming phase.
The new generation Combi sensors use the latest NXP chip, which includes key features such as angle detection which is prominent in new vehicle applications.
The auto-location functionality for WAL has also been upgraded, enhancing the auto relearn process on vehicles.
The sensor is designed for optimum compatibility with OE and aftermarket wheels, with a two-part design, which allows for independent replacement of the valve stem.
Daniel Jackson, Technical Engineer, explained: "The new Combi sensor represents Mobiletrons ethos of striving to be at the cutting edge of programmable sensor technology. The new Combi sensor combines the best features of our universal sensors in our current range with the some of the latest advancements in TPMS technology, we are looking forward to demonstrating the benefits of these new features with our customers."
---
Mobiletrons other key products include a range of ignition coils, engine management sensors and rotating products. For more information, visit
www.mobiletron.co.uk
.