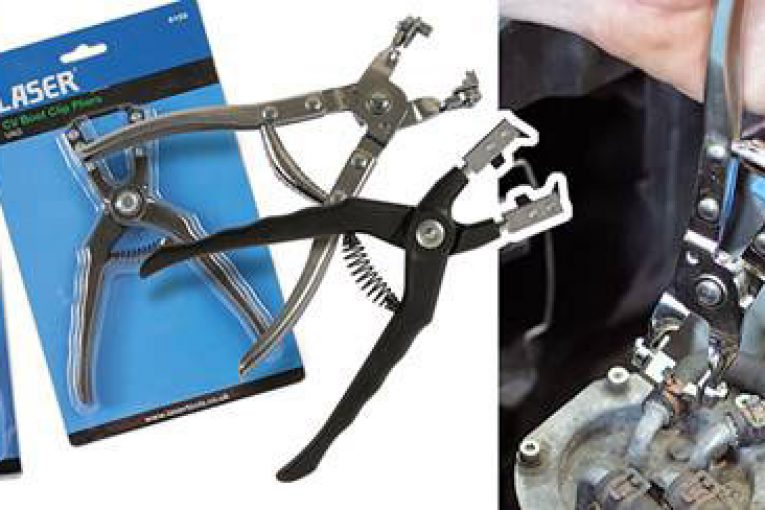 Laser Tools offers a wide range of Hand Tools, designed for use in the automotive trade, including:
Fuel line and CV boot clip pliers
This pair of specialist fuel line clip and CV boot clip pliers will appeal to the Volkswagen/Audi technician. Part number 6154 is for the tag-style, three-ended hose clips used on Audi, Seat, Skoda and Volkswagen fuel line hoses. With movable jaws and the spring-assisted grip even difficult to access clips can be removed with ease.
Part number 6155 is specifically designed for tightening the clips fitted to the outer CV boot on 108mm driveshafts fitted to Audi, Volkswagen, Skoda, Mercedes Benz and Toyota models. Equivalent to OEM tool 3340A. Makes what can sometimes be an awkward job very straightforward.
Professional five-in-one ratchet crimping tool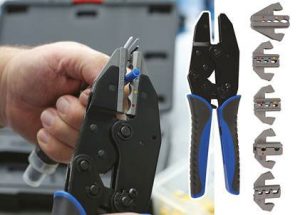 This professional quality ratchet crimping tool set (part number 6484) includes five pairs of die sets suitable for a wide range of electrical terminals and connectors.
The crimping tool has a steel frame with comfortable, contoured grips and a ratchet release lever. Die sets quickly interchange and are held securely in the tool. The tool gives a professional and secure connection and is supplied in a durable, plastic moulded storage case.
Die set applications:
Die for insulated heat shrink butt connector (0.5 – 10mm)
Die for insulated quick-disconnect connector (0.5 – 6mm)
Die for miniature insulated connector (0.1 – 1.5mm)
Die for insulated 90º flag connector (0.5 – 2.5mm)
Die for closed end insulated connector (0.5 – 6mm)
4-way ratchet, socket and bit set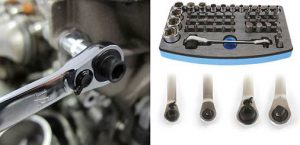 An innovative 4-way reversible ratchet (part number 6428) that features both 3/8″ and 1/4″ socket drives and 1/4″ and 5/16″ bit drivers. The ratchet is beautifully finished and balanced and features a super-smooth 72 teeth ratchet at both ends.
The set includes:
8 x 1/4″ drive sockets: 4.5mm, 5mm, 5.5mm, 6mm, 7mm, 8mm, 9mm, 10mm.
6 x 3/8″ drive sockets: 12mm, 13mm, 14mm, 16mm, 17mm, 19mm.
18 x 1/4″ hex shank bits: Phillips head Ph1, Ph2, Ph3, PzDrive Pz1, Pz2, Pz3, and Flat 4mm, 5mm, 6mm.
Hex bits: 4mm, 5mm, 6mm and Star T10, T15, T20, T25, T30, and T40.
Plus 14 x 5/16″ shank bits: hex 4mm, 5mm, 6mm, 7mm, 8mm, 10mm, 12mm and Star Tamperproof: T20, T25, T30, T40, T45, T50, and T55.
The ratchet and sockets are manufactured in chrome vanadium and the bits are strong S2 steel.
Air hammer needle scaler attachment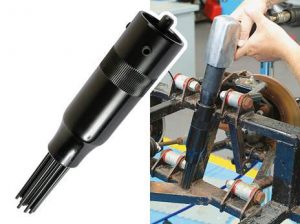 An extremely useful attachment for your trusty air hammer or air chisel, this needle scaler (part number 6413) is excellent for removing weld spatter, rust, paint, under
seal and other debris from many different surfaces.
When coupled to a powerful air hammer (such as the Laser 6031), the needle scaler makes light work of the toughest jobs and is suitable for use on heavier work such as chassis rails and box sections, its useful narrow profile making it ideal for hard to reach areas.
It is 230mm long and features 19 3mm x 180mm needles. Spare parts are available: part no 6442 (spring) and part no 6441 (pack of 19 spare needles).