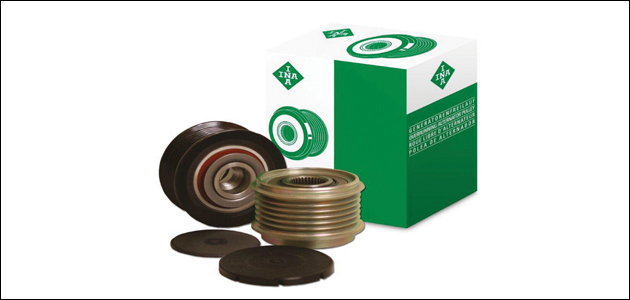 Major new additions have been made to the INA Over Running Alternator Pulleys (OAPs) range by Schaeffler Automotive Aftermarket (UK). OAPs are an integral part of the Front End Auxiliary Drive system (FEAD) and are designed to absorb vibrations and fluctuations in the FEAD.
The new INA OAP part numbers cover the requirements of more than 200,000 vehicles on the UK's roads and take the number of vehicles covered by 34 new additions this year to almost two million.
There are significant new OAPs for Japanese models including one that covers more than 11,000 vehicles including the Nissan Qashqai/Qashqai + 2 (J10, JJ10) 1.6 11/2010-, another for more than 27,000 vehicles including the Lexus IS II (GSE2, ALE2, USE2) 220 d (ALE20) 10/2005- and Toyota Avensis 2.0 D4D (T25) 2005-2008, and one for more than 15,000 vehicles including the Toyota Yaris/Vitz (P9) 1.4 D-4D 01/2006-.
Plus there are new OAP additions for established popular models such as one for nearly 83,000 vehicles including the Vauxhall Vectra Mk II (C) GTS 1.9 CTDI 16v, 04/2004-07/2008, and the Vauxhall Zafira Mk II (B) 1.9 CDTI, 07/2005-, and one for nearly 67,000 vehicles including the Ford Fiesta VI 1.4, 1.6 TDCi 10/2008-.