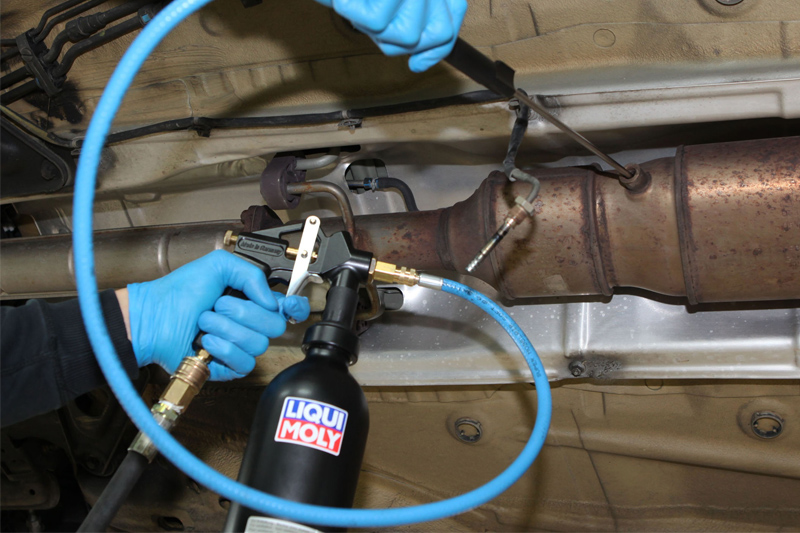 ---
LIQUI MOLY explains why it believes its Diesel Particulate Filter Cleaner can help strengthen customer loyalty to garages and provide new opportunities for turnover.
---
Today, diesel particulate filters (DPFs) are a standard feature in vehicles with diesel engines. Although they are claimed to be excellent for the environment, they are sensitive and may clog up prematurely. LIQUI MOLY believes that this presents an opportunity for garages to increase the service life of the DPF and score points with customers.
"A critical point for cars with DPFs is the motor oil," says Ibrahim Memis, who is in charge of the UK operations at LIQUI MOLY. The oil used must be a low ash oil. When conventional oils burn in the combustion chamber, ash forms. This ash lands in the diesel particulate filter, clogging it after a short time, and this is why cars with DPFs need so-called low SAPS motor oils.
The second influential factor is driving style. Ibrahim Memis explains, "Short trips are the worst thing that can happen for a DPF. The DPF's regeneration program only works when the filter has reached a minimum temperature. Unfortunately, this temperature is not reached on short trips. The result: more and more soot collects, until the filter is completely clogged up and the engine no longer runs.
DPFs clogged with soot can be freed up quickly and easily with the Diesel Particulate Filter Cleaner. This cleaning set allows clogged filters to be freed up again without having to remove them. The cleaning process requires 30 to 60 minutes, and is considerably cheaper than installing a new filter. "By offering this service, workshops can prove they are up to speed with technology, while saving customers money", says Ibrahim Memis. "Both increase customer loyalty and help set you apart from your competitors." And once a customer already experienced problems with a prematurely clogged DPF, he is open to accept this service at every inspection as preventative maintenance.
---