---
The rapid increase in electrification has seen many challenges for workshops. More recently, training courses have been created by professional bodies and manufacturers alike, in a bid to get technicians up to speed. Once this training has been completed, and the knowledge and skills have been acquired, the next step is to make sure the correct tools are available to carry out the work. Sealey explains more.
---
Some control unit updates on modern vehicles can take a considerable amount of time – far longer in fact than the electrical capacity of the vehicle battery. In these cases, a battery support unit has to be used to provide current. These units have to not only provide sufficient current, but also supply it with a
stabilised voltage output. The Sealey BSCU100 Combined Battery Support Unit & Charger is a professional battery support unit which is designed for prolonged use during vehicle control unit software updates.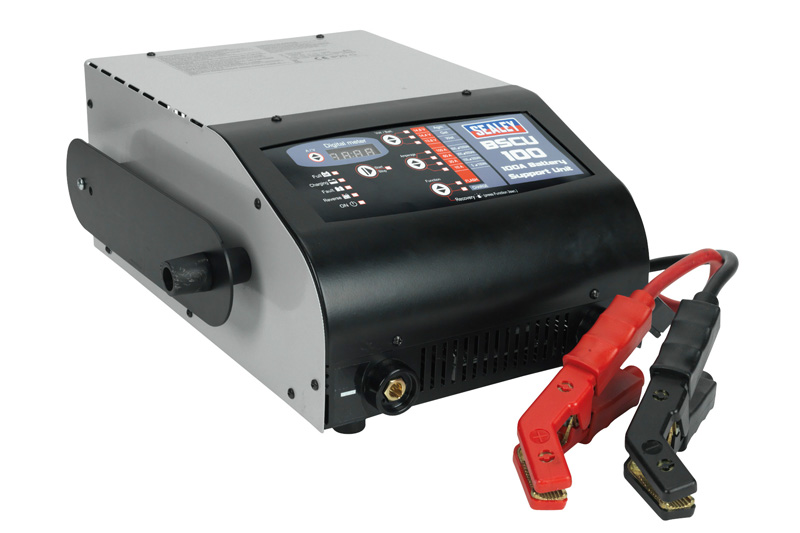 The unit is designed for use with 12V lead-acid batteries, including WET, GEL and AGM types. It is designed to support the vehicle battery during electronic diagnostic checks and control unit updates. The high frequency power supply utilises a micro- processing CPU controller when charging a battery. There is also a function to recharge a deeply discharged battery and the safety circuitry includes reverse polarity protection, short circuit protection, overload protection and the detection of voltage errors. Once fully charged, the battery may be left connected, so it can be automatically conditioned and maintained, which means the technician can leave the vehicle safe in the knowledge that no electrical damage can occur.
When it comes to hand tools, it is generally the responsibility of the vehicle technician to provide what they need for the course of their work. Value for money and functionality are key points, as any tool has to be fit for purpose and provide years of service at an affordable price. Many people do not realise that Sealey hand tools all carry a lifetime guarantee. New tools are constantly being sourced, invented and thoroughly tested before being offered for sale.
One such example is the VS655 ATF Gear Box Plug Tool. BMW Mini automatic gearboxes have a particularly narrow space to access the oil filler plug, so the VS655 was introduced to overcome this particular problem. March 2018 will see over 50 new vehicle service tools being launched to complement the 9,500 products currently on offer. Whatever your tool and equipment requirements may be, there is a good chance Sealey can cater for you.
---
For further details or to view
Sealey's
range,
click here.