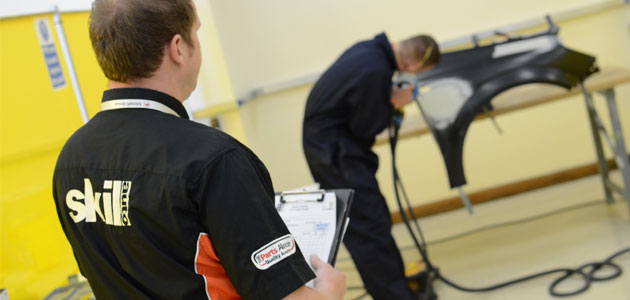 The search for the UK's best young automotive technicians has entered its final phase with the announcement of the finalists in the Institute of the Motor Industry's (IMI) SkillAuto competition. Eighteen heat winners will compete for gold at the UK Skills Show in November in their chosen fields of Autorefinishing, Autotech or Autobody. Around 100,000 people are expected to visit the Skills Show at the Birmingham NEC, which provides a platform for the nation's best young talent to compete, as well as giving visitors the chance to investigate vocational career opportunities.
Competition tasks at the heat stages included preparing and painting panels, scratch repair and colour matching for Autopaint at 3M's training centre. Autobody competitors faced such challenges as welding, metal finish and plastic fill repairs at Eyebox in Coventry. Finally, Autotech tasks included electrical fault finding, brake repairs and vehicle inspection tasks on prestige vehicles at the Jaguar Land Rover Academy.
Competition Manager, David Massie commented:
"Standards at this year's competition heats have been extremely high. I would like to congratulate all those who made it through to the final and also thank all our sponsors and venues who have ensured this year's competition has already been a special one.
The IMI was one of just three Competition Organising Partners to be nominated by WorldSkills UK for their 'Partner of the Year' award in recognition of their efforts in delivering the 2013 competitions. We therefore know this cycle's competitors will have the highest profile yet at the Skills Show. The young people who have reached the final represent the high calibre of apprentices the motor industry needs. They will also act as role models for future generations of automotive professionals."
Sponsors involved in this year's competition included Wurth UK, Morelli Group, Car-o-liner and GTG Training, with many more expected on board for the final in November.
You can follow the competition and find out more information at www.autocity.org.uk.