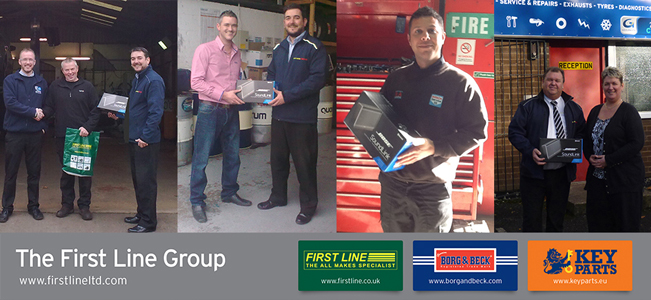 The popular sales promotion organised and funded by the First Line Group (FLG) for its comprehensive range of First Line branded turbo hoses, is set to begin its final phase with the ultimate prize now within reach of customers purchasing turbo hoses during December and January '15.
The initial three-month campaign has garnered an excellent response from garages keen to get their hands on a superb BOSE speaker, as well as a bit of business that far too many independents are still giving away to the franchised dealer.
The winners' roll of honour so far includes Simon Moloney from Wheelwrights Todmorden, supplied through JPN Autoparts and Edward Dodwell of RA Engineering, supplied through Andrew Page, who were the promotion's first winners back in September. October's winners were Jayne Davies from Dave Campbell Autos, supplied through Jim Barrows and Chris Pettigrew from Chris Allen Garages Ltd, with Andrew Curran being their supplier. The final pair of initial winners from November were Mark Ellis from Mill View Motors Ltd, supplied through Hereward Car & Truck Components and Nick Merry from Buckland Dinham Garage Ltd, supplied through Melksham Motor Factors. 
The second phase of the promotion kicked off at the start of December so technicians have just two months to get themselves in with the chance to win £500 worth of fantastic SnapOn tools, which are sure to last them their professional lifetime!
All they have to do is take a photo of the invoice from the purchase of a First Line turbo hose and send it through to FLG via www.firstlineltd.com and the turbo hose competition link, and they'll be entered into the prize-draw to win the SnapOn voucher. The promotion is not just for the benefit of garages however, as the motor factor that supplies the winning garage with the turbo hose will get in on the action and receive a brilliant BOSE Soundlink Air System.
So don't delay, get involved today and jump at the chance to become one of FLG's turbo hose winners!