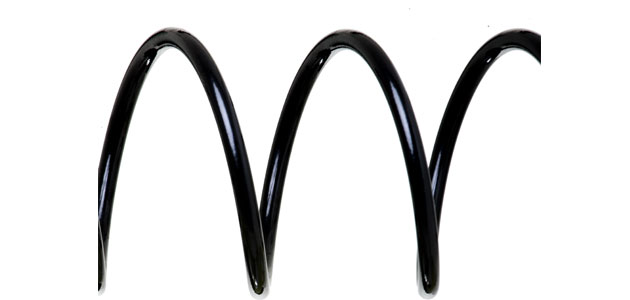 Sogefi, the automotive components company of the CIR group, will produce the first composite suspension springs for the new Audi A6 Avant 2.0 TDI ultra (140kW). Audi is the first car manufacturer in the world to roll out the new technology, developed with Sogefi, to the market in mass production. The suspension springs will guarantee the A6 Avant 2.0 a weight reduction of approximately 4.4 kilograms compared to traditional technology, giving lower fuel consumption, greater driving precision and more comfort.
Sogefi patented this composite coil spring, which weighs between 40% and 70% less than springs made from the traditional steel. The new springs can be mounted on cars and light commercial vehicles with no change to the suspension system, guaranteeing the vehicle a weight reduction of 4-6 kilograms (depending on the type of vehicle and the design of the spring) and a significantly reduced unsprung mass, thus improving driving precision. The replacement of steel by materials that are not subject to corrosion also guarantees a lower noise level and a significant reduction in CO2 emissions (up to – 0.5 g per km).
These new composite springs also guarantee that the production process has a lower impact on the environment than is traditionally the case. This is because producing these springs requires less energy, with a resulting reduction in CO2 emissions.
"The introduction of the patented GFRP coil spring is a world first, reaffirming Sogefi Group's position as an innovative premium partner to OEMs," said Andrea Taschini, General Manager Sogefi Aftermarket Business Unit. "The Aftermarket will also benefit in the medium to longer-term from the stream of innovative products coming from our focused R&D activities," he added.
The collaboration with Audi on this latest initiative reflects the growing significance of Sogefi to the car sector, especially with German car manufacturers. Eight of the top 10 selling cars in Europe last year contain Sogefi components as original equipment. Sogefi components are to be found on such German cars as BMW's 1 and 3 series, VW's Polo and Tiguan, and the Opel Corsa and Astra. The popularity of Sogefi is not just with OEMs but throughout the German Aftermarket segment as well.