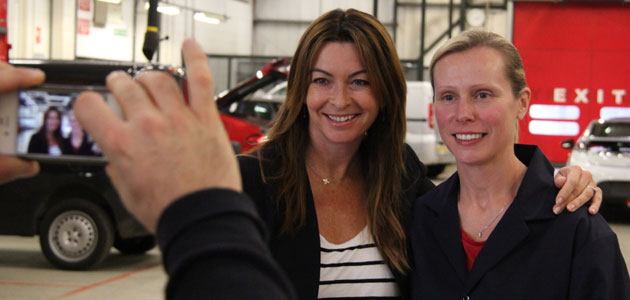 Hemel mechanic, Vicky Kempton has landed herself a starring role in a series of short films, alongside BBC Formula 1 presenter Suzi Perry.
Vicky (37) who works as a technician for Roy Chapman in Berkhamsted, was approached by the Institute of the Motor Industry (IMI) to help with some films to show women drivers how to look after their cars and deal with garages with confidence.
The IMI is launching an advice campaign aimed at women, after research revealed that nearly half of women drivers do not get their cars serviced between MOTs because they are not comfortable dealing with mechanics.
Vicky was chosen because she is listed on the IMI's Professional Register as a qualified technician who keeps her skills up to date. Also Roy Chapman's has a positive attitude to women customers, they are approved by the Foxy Lady Drivers Club, and they even run "Ladies' nights" to help local women drivers become more accustomed with language and the practicalities of car maintenance.
Vicky spent a day on set being interviewed by Suzi Perry and demonstrating the best ways to care for a car and how to save money into the bargain. Vicky explains, "I'm helping to tell women that doing basic checks and getting your car serviced regularly saves money in the long run, your car is worth more when you want to sell it, and it helps avoid breakdowns."
Mum of one Vicky was nervous at first but once filming was underway she had a great time "It was brilliant being interviewed by Suzi, she was very down to earth and generous." she commented.
Roy Chapman's were delighted to see Vicky take part the campaign. Jeremy Chapman said "It's a very important campaign, many women drivers are put off by the macho image of the typical garage, so we've been working for years to break this barrier down with our "Ladies nights" presentations and of course by employing women in technical and customer service roles. When you think about it, it's just basic customer service, half our customers are ladies and if they don't like our service they won't come back, so we make it our business to make sure they're happy."
The IMI's Professional Register campaign will be launched in December, with adverts in a host of women's magazines and websites including Mumsnet. Full details of the consumer research will be revealed at the same time.
The IMI Professional Register is a place where members of the public can find skilled and trustworthy professionals in the motor trade in their area. You can check it out at www.imiregister.org.uk.
All professionals on the register have been independently verified and are regularly checked to ensure they hold the right skills and keep their competence levels up-to-date.