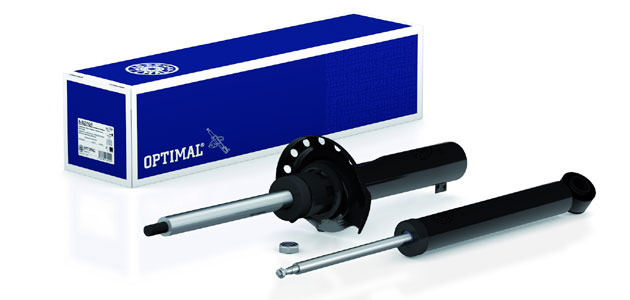 When looking at the road performance of any vehicle, especially in critical situations, shock absorbers hold a vital significance.
Sales of shock absorbers from Optimal UK, to their ever increasing customer base has been particularly strong in the first quarter of 2015 according to Optimal UK' s Geoff Jones and have become the company's biggest grower outside of its core business.
Optimal Shock Absorbers guarantee safety, reliability and minimum wear and tear, making them a valuable product in today's market. The range has also recently changed its image and packaging, increasing the interest in Optimal's products.
Furthermore, the growth in sales at Optimal UK has been stimulated by the company to add additional references to complement the existing stock holding in the shock absorber sector alone.
Optimal's OE quality shock absorber range, includes both gas and oil pressure versions, produced using leading edge production technology and state of the art stress testing, ensuring that the Optimal product is of the highest quality and built to last.
"The growth in the sale of shock absorbers," said Geoff Jones, "is down to the growing appreciation and understanding, by motorists, of the importance of these safety critical components. Badly worn, they can affect tyre wear and potentially a vehicle's handling at critical times." The growing Optimal UK shock absorber range includes parts for all major European and Asian built models.
Optimal UK take great pride in ensuring their product range is constantly being expanded to facilitate for a wide range of vehicle models. Shock absorbers will receive a high level of concentration over the next 12 months.