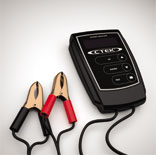 CTEK, a leading global brand in the care and maintenance of vehicle batteries, has teamed up with Phillips Automotive to offer workshops a free Philips high power LED inspection lamp when they purchase CTEK professional chargers.
Partnering with the market leader in car lighting, CTEK will be running this campaign throughout March with selected stockists.
Peter White, Business Unit Manager for Professional Products from CTEK said "We are delighted to have teamed up with Philips, one of the market leaders in car lighting, to launch this campaign. We think that this promotion presents us with the opportunity to highlight the importance of battery charging, and give away some high quality workshop lights too. The Philips high power LED inspection lamp is the ideal tool for a short-term inspection and easily fitted into any pocket, it offers powerful light in a convenient format".