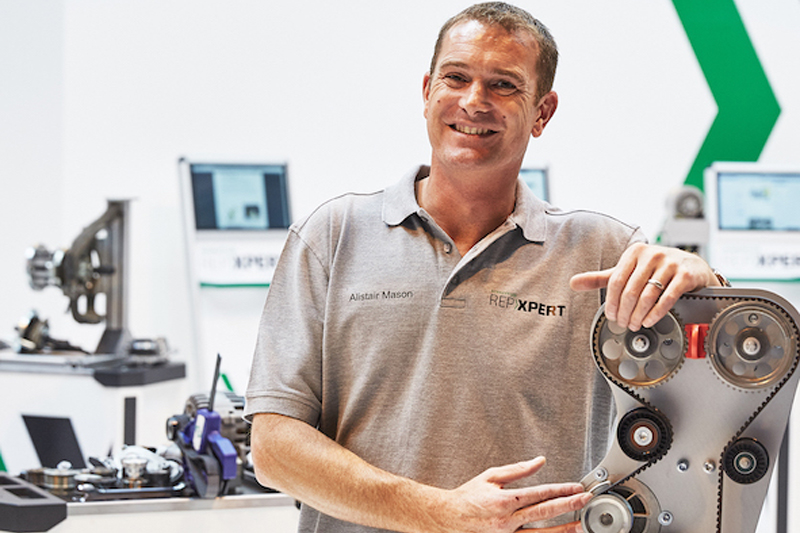 ---
The Schaeffler REPXPERT technical team was back in action recently, with a slightly different 'Tea-break training' session.
---
Teaming up with fellow original equipment (OE) manufacturer DENSO, it deliverered a Front End Auxiliary Drive system (FEAD) special.
Schaeffler Technical Manager and REPXPERT, Alistair Mason, said: "It was great to be back online and to also introduce the DENSO team to our enthusiastic REPXPERT members. Together, we were able to present a detailed and interesting FEAD training session that covered not only the belt drive system, which is our speciality, but also AC compressors – which are DENSO's.
"FEAD systems are becoming ever more complex, particularly when it comes to the type and design of the pulleys used to drive components such as alternators and compressors. There are now also Torsional Vibration Dampers (TVDs) fitted on the crankshaft, which in some cases are just like a small dual mass flywheel, very similar to those fitted in transmission systems.
"Being able to provide comprehensive training that covered the entire FEAD system, presented by two of the principal OE players, which addressed the real-world issues that can affect them, added a new dimension to our usual type of session and was very well received.
"However, this wasn't just our opinion, it was backed up by the positive feedback we received back from the many online attendees, so I'm sure it's a format we'll revisit moving forward."
Registration links for further 'Tea-break Training' sessions will be made available on the REPXPERT website, as well as via social media posts and newsletters sent to members, plus anybody who has attended a Schaeffler REPXPERT Academy or AutoInform LIVE event. Alternatively, click here.
---