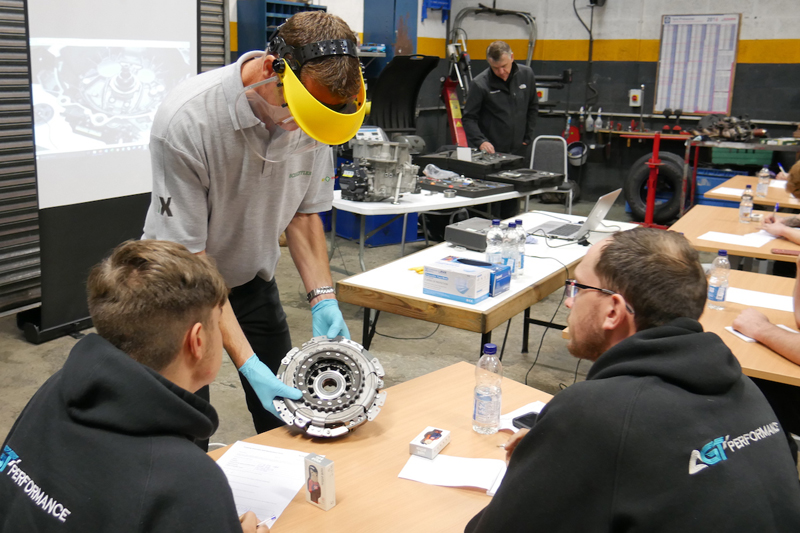 ---
Following its work developing, packaging and delivering Schaeffler's 'BACK > ON TRACK' workshop essentials packs, the company's team of REPXPERTs are now back on the road and providing hands-on training.
---
Technical Manager Alistair Mason, and fellow REPXPERT Lez Crossley, were at Arwyn's Garage in Caernarfon, whilst Bob Carter visited Martin Brothers in Jarrow. The training delivered at both workshops focused on the latest double clutch transmissions, which has been designed to equip workshops to tackle these complex systems with confidence.
Alistair explained: "The popularity of the double clutch transmission is growing in popularity with vehicle manufacturers, as it combines the best of both worlds: the comfort and ease of an automatic transmission with the performance and economy of a manual. As a result, they are going to be seen in the independent workshop in growing numbers. They are quite unlike a traditional system, so training is a must before technicians attempt to undertake repair work on them, but it is not rocket science!
"This is obviously where the REPXPERT team steps in to provide hands-on training, while obviously observing the strict social distancing and hygiene protocols we have encouraged through our 'BACK > ON TRACK' initiative. This, combined with the wealth of technical support available to members through the Schaeffler REPXPERT website – www.repxpert.co.uk – gives technicians the tools they need to develop the skills required to work on these systems effectively, and that's what REPXPERT training is all about."
---
Information on Schaeffler products, fitting instructions, labour times and more can be found on the REPXPERT workshop portal at
www.repxpert.co.uk
– and also in the REPXPERT app available as a free download for all iOS and Android mobile devices.