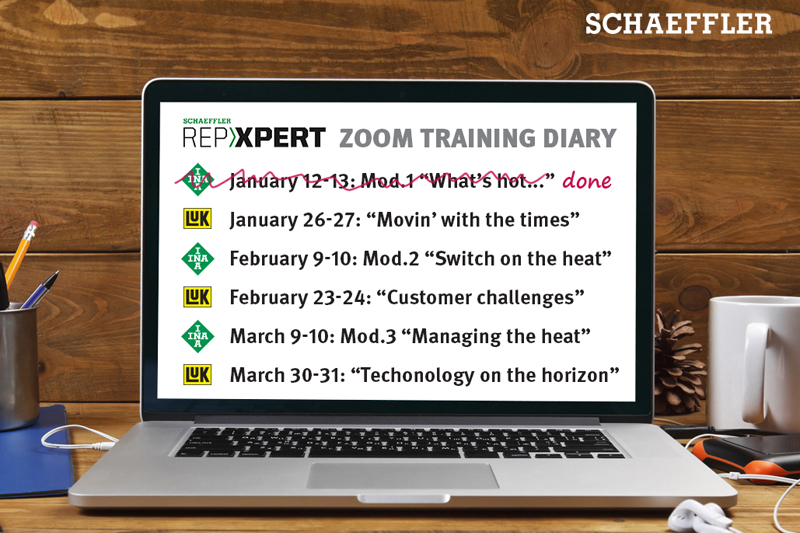 ---
Schaeffler's REPXPERT technical training team has continued to deliver its 'Tea-Break Training' sessions, with the latest online training module entitled 'What's Hot in Cooling'.
---
Following the now tried and tested format of a short presentation followed by a Q&A session, attendees were first introduced to the technical team before an overview of water pump and coolant technology.
This was followed by best practice advice, including the essential tools needed when carrying out cooling system checks or repairs. The Q&As to close, were said to be enjoyed by the 200 plus attendees that took part across the three sessions.
Schaeffler Technical Manager and REPXPERT, Alistair Mason, said: "It was obvious from when we touched on the subject during the first event in December, that cooling was an area that was going to prove popular but the overall numbers exceeded even our expectations.
"It takes a great deal of time and effort by the REPXPERT team to pull these sessions together, from those presenting and those researching the subjects, as well as our digital team that ensures attendees are invited and can access via Zoom. It was great to see the appetite for high quality training is as strong as ever and that the feedback we receive is so positive."
The next cooling related module will be 'Switch on the Heat', which will be held on Tuesday 9 February at 12:30 and Wednesday 10 February at 12:30 and 18:30. This will be followed by module three 'Managing the Heat', on Tuesday 16 March at 12:30 and Wednesday 17 March at 12:30 and 18:30.
Supplementing the cooling programme, the REPXPERT team will also be addressing the subject of clutch technology, with a focus on Dual Mass Flywheels, with three modules also running in January, February and March respectively.
Module one 'Movin' with the Times', will take place on Tuesday 26 January at 12:30 and Wednesday 27 at 12:30 and 18:30. Module two 'Customer Challenges' will be held on Tuesday 23 February and Wednesday 24 at 12:30 and 18:30. Finally, module three 'Technology on the Horizon' will be delivered on Tuesday 30 March at 12:30 and Wednesday 31 at 12:30 and 18:30.
Registration links are available on the REPXPERT website, as well as via social media posts and newsletters sent to members plus anybody who has attended a Schaeffler REPXPERT Academy or any other Schaeffler training event.
---