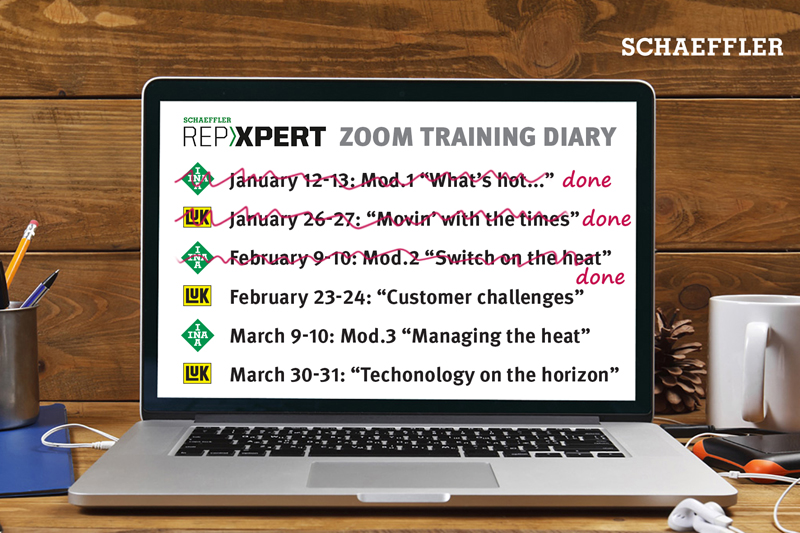 ---
Schaeffler REPXPERT has announced that more than 200 workshops and technicians attended its latest 'Tea-break training' module on INA cooling.
---
Schaeffler Technical Manager and REPXPERT, Alistair Mason, explained: "The purpose of the training is threefold. First, to support workshops by providing useful information to professional technicians that can improve their knowledge and make jobs simpler. Second, to present it in a way that is easy to digest and allows them to put it into practice, then finally, give them access to the original equipment parts, tools and fitting info that allows them to get the job done right first time – every time!
"It is remarkably easy to put a tangible value on this kind of support training, because if you think of something like a switchable water pump, as used by VW on its 1.6 and 2.0-litre TDI units and covered in part of our INA cooling module two 'Switch on the heat', you can see the real cost of getting it wrong.
"It's a four-hour job, so not doing it right can cost a workshop, charging £60 an hour, not only half a day's work that it cannot charge again for redoing the job, but also the cost of a new pump. They also lose the £240 they could have earned doing other work, plus they now have a backlog affecting other jobs and other customers – surely it's better to get it right first time!"
It's little wonder, therefore, that workshops such as Avia Sports Cars, for example, consider training a vital business investment. Proprietor, Hayley Pells, explained: "Preventing fitting errors, such as the one mentioned by Alistair, is not only key to our profitability, but also our reputation. So, the fact that the Schaeffler REPXPERT team is making this information readily available, and for free, makes attending these sessions a no-brainer.
"Every member of our team has attended the 'Tea-break training' sessions since launch, working it into our natural breaks is preferable as we can watch it together and discuss among ourselves, as well as asking the REPXPERTs questions as we go. Workshop life means that sometimes we could spend this time doing repairs – so there is a cost investment of sorts. However, the training returns on this investment as it helps cut fitting errors down to a minimum, our IMI CPD is kept up to date, and it ensures we remain ahead of our competitors."
'The Garage Inspector' and Schaeffler Brand Ambassador, Andy Savva, added: "I truly believe what Schaeffler has brought to the table with their 'Tea-break training' sessions is great, as it gives the whole workshop team the ability to take part together.
"OE training direct from a manufacturer, accessed in small bites, will only enhance a technician's knowledge – however, people must be aware in order to get the full OE training experience, attending a full Schaeffler IMI approved training offering is a must.
"So, hopefully, these small bites will encourage technicians to enroll into these when things get back to some normality."
The next 'Tea-break training' session will be on clutch technology, with module two: 'Customer Challenges', taking place on Tuesday 23 February at 12:30 and Wednesday 24 at 12:30 and 18:30, and will include advice from guest speaker Andy Savva.
The focus will then shift back to INA, for module three of the cooling system programme: 'Managing the Heat', on Tuesday 16 March at 12:30 and Wednesday 17 March at 12:30 and 18:30. The attention will then return to LuK FOR DMF module three: 'Technology on the Horizon', on Tuesday 30 March at 12:30 and Wednesday 31 at 12:30 and 18:30.
Registration is available via the 'Tea-break training' button on the REPXPERT website, as well as via social media posts and newsletters sent to members. Anybody who has attended a Schaeffler REPXPERT Academy or any other Schaeffler or OESAA training event will also receive an email invitation.
---
To register for the event, click
here
.