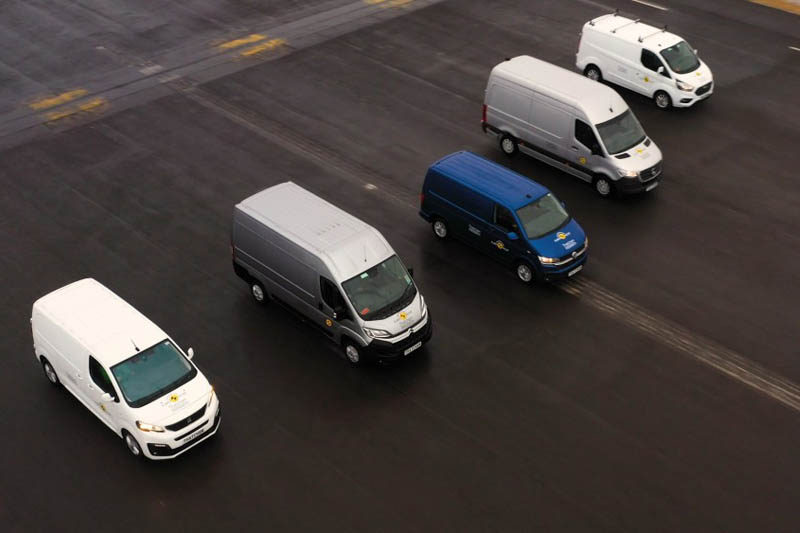 ---
Euro NCAP and Thatcham Research have launched the world's first Commercial Van Safety Rating, assessing 19 of the UK's favourite vans and revealing major shortcomings on some.
---
The rating independently tested the fitment rate and performance of the vans' active safety, anti-collision technology. 
With almost 90% of Britons buying something online in 2019 and with lockdown restrictions eating into valuable shopping time in recent weeks, many will once again be relying on a van to safely deliver Christmas to the front door this year.
But how safe are these vehicles that are deployed onto the roads in their thousands to fulfil our orders? The answer is said to be sobering – not only for the couriers themselves, but also for the motorists and vulnerable road users that share the roads with vans.
The Renault Master, Nissan NV400, Renault Trafic, Vauxhall Movano and Fiat Talento all performed so badly in the assessment they were handed a 'Not Recommended' rating.
Only Volkswagen's Transporter, the Ford Transit and Mercedes-Benz's Vito scored a 'Gold' rating, while five others were 'Silver' and another six 'Bronze'.
Matthew Avery, Thatcham Research Director of Research, said: "This first batch of test results show the fitment of crucial safety technology on vans is woefully low.
"It's a serious issue that needs addressing urgently, particularly with van numbers increasing and the continued surge in demand for home deliveries during the pandemic and before Christmas."
Accident data highlights tech shortcomings
Vans are said to be involved in more accidents that result in fatal injuries to other road users, per mile travelled, than any other type of vehicle on the UK's roads.
According to DfT Road Safety Data, in the five years up to 2018, collisions involving vans were responsible for a 14% increase in the number of serious injuries to pedestrians, car occupants, and van occupants. Cyclist casualties also rose by 22%.
The DfT data also revealed that injured car occupants were 40% more likely to be killed or seriously injured when involved in a head-on incident with a van compared to another car.
Vans lag behind cars
Vans are almost completely devoid of the Advanced Driver Assistance Systems (ADAS) that have been proven to reduce accidents when fitted to cars.
For example, only 12.8% of new vans were fitted with Autonomous Emergency Braking (AEB) technology as standard in 2019, compared to 62% of new cars.
Matthew explained: "There is a definite lack of parity between the levels of collision avoidance technology on vans compared to cars. Modern cars have lots as standard, but vans have barely any. Brands are making a clear decision not to fit this important technology as standard and van operators are not even buying it as a cost option.
"The lack of parity even exists within the same manufacturers. Take Renault, for example. Its five-star-rated Clio has lots of standard fit Advanced Driver Assistance System (ADAS) technology that can save lives. But its Trafic van has practically nothing, not even as an option."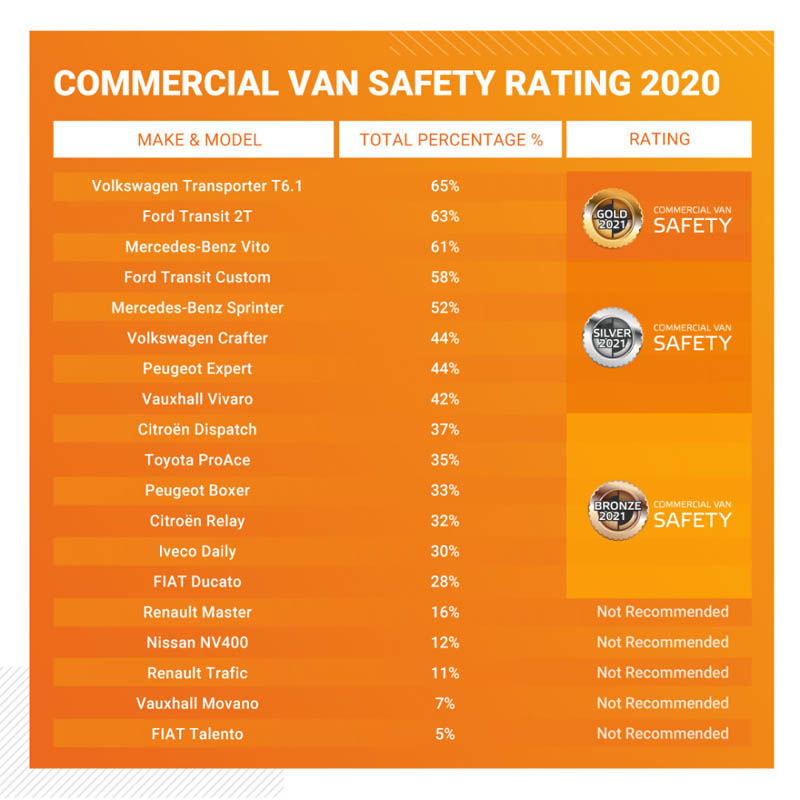 Tried and tested
To highlight the extent of the problem and encourage wider fitment of ADAS technology, Euro NCAP and Thatcham Research have launched the Commercial Van Safety Rating to assess the performance and fitment of emergency braking, speed limiter, and lane support systems, as well as seat belt reminder technology. Safety tests will be conducted annually.
In the first batch of tests, only VW's Transporter – with a performance score of 65%, Ford's Transit (63%) and Mercedes-Benz's Vito (61%) earned a 'Gold' rating. Both the VW and Mercedes models are fitted with AEB as standard in the UK, proving lifesaving tech doesn't always have to be a cost option. Five other vans were rated 'Silver', and six were 'Bronze'.
The Renault Master (16%), Nissan NV400 (12%), Renault Trafic (11%), Vauxhall Movano (7%) and Fiat Talento (5%) performed so badly they were given a 'Not Recommended' rating.
Matthew continued: "These findings show vehicle manufacturers are withholding critical safety technology from their vans. It's a ridiculous situation because the systems already exist and could be fitted if they wanted them to be."
New General Safety Regulation (GSR) legislation will require all new vans to be fitted with certain ADAS technology by 2024.
Thatcham Research has said it's keen to see the UK deliver on the commitment it made to sign up to this before leaving the EU. But, together with Euro NCAP, it also wants to see a change in the van manufacturers' approach before then.
Matthew concluded: "We want to see more collision avoidance technology fitted as standard and readily available long before then.
"Decisive action will reduce van collisions, create greater parity between cars and vans, and help to protect the public from serious injury and death as more vehicles on our roads will have lifesaving technology."
WATCH as Thatcham Research and Euro NCAP launch world's first Commercial Van Safety Ratings:
---