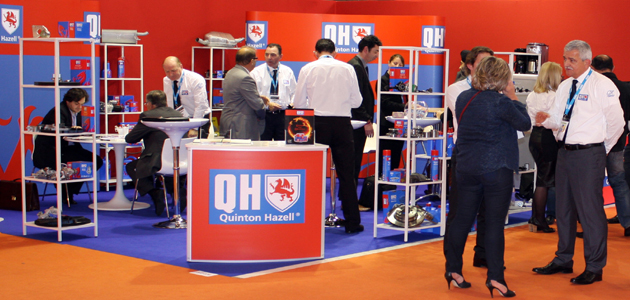 Quinton Hazell, one of the aftermarket's best known brands, has announced its re-introduction to the aftermarket with the launch of a new product range that covers over 24,000 parts. 
The brand was officially re-launched at the recent Equip Auto exhibition in Paris, which provided the event ideal platform for Quinton Hazell to return with a new branding approach to packaging design and to show its desire to focus on quality and coverage.
Stephen Oliver, International Sales Manager for Quinton Hazell, comments: "This year's show was one of the busiest exhibitions I've been to in a while and you could really feel a sense of optimism from both the visitors and our fellow exhibitors. We received a great deal of positive feedback about the announcement of the re-launch of the QH brand, which I think can be attributed to its long standing reputation for manufacturing high quality components for a very wide spectrum of vehicles."
Following the purchase of QH in 2013 by the Tetrosyl Group, over £10million has been invested in a complete re-launch. The work has included developing new packaging for the entire range of products, a revised brand image and ensuring continuation of supply by the preferred manufacturers and suppliers that make-up the brand portfolio. New products are also being sourced from within the existing Tetrosyl manufacturing base and from new suppliers, all of whom have been thoroughly audited for product quality and business systems.
At its launch, Quinton Hazell is covering a large percentage of the car parc with a range of 24,000 parts; all of which are manufactured to OE standards. This number will almost double to 44,000 by the end of the year, and is expected to continue to grow quickly into 2014 with a target to achieve 99% coverage of the vehicle car parc.
With next day delivery, QH will aim to deliver 80,000 parts a day. This, the company believes, will re-establish it as one of the largest manufacturers of aftermarket automotive components in Europe.