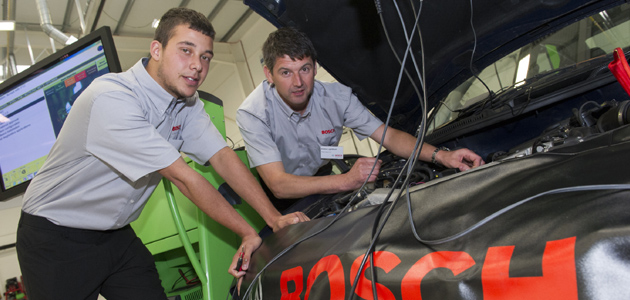 Bosch, has underlined its commitment to skills and training within the independent automotive aftermarket, with the launch of its UK Apprenticeship Scheme.
The new Apprentice Scheme, which coincides with 100 years after Robert Bosch recruited his first automotive apprentice, offers a great way for young technicians to kick-start their career in the automotive industry. The scheme offers brilliant opportunities for young technicians and their employees, with its long-term goal to lay the foundations for the future of the industry.
The inaugural enrolment, consisting of apprentices who are employed by garages from the Bosch Car Service network, will allow apprentices to take part in an intense three-year residential apprenticeship training programme at the state-of-the-art Service Training Centre (STC) in Uxbridge. Being employed at their local independent Bosch Car Service garage allows the apprentice to benefit from both practical and theory training while earning a living, providing a good balance of on-the-job experience and technical training.
The new apprenticeship scheme also provides the Bosch Car Service garage with the added value of an apprentice being trained by Bosch on Bosch equipment, with a full induction, mentoring and monitoring structure providing feedback and guidance for both apprentices and their employers. This means that at the end of three years the apprentice has some valuable qualifications and the garage gains a technician trained to the highest standard.
Trained by Bosch's team of Master Technicians to achieve a nationally recognised level two and three VRG and VCQ qualification, each delegate will be assigned a designated technical mentor throughout their training, providing guidance and allowing them to develop their hands-on skills while taking on more advanced tasks. Throughout the course, delegates will use the latest cutting-edge Bosch diagnostic equipment to hone their skills across many vehicle manufacturers and vehicle systems.
Bosch apprentices are trained to use the latest sophisticated technology and systems in the automotive aftermarket, so that they can enhance a workshop's performance. The apprentices spend the majority of their time working on-site at the independent garage, gaining valuable experience, while attending scheduled training modules at the STC with each lasting a week at a time. The apprentice will stay overnight in a hotel allowing for a form of residential training which offers a safe transition from class room to workshop.
"It is a natural progression for Bosch to start its own Technician Apprenticeship Scheme," said Mark Heard, Marketing Manager, Bosch UK.
"Bosch has recognised the high-demand within the industry for comprehensive apprenticeship programmes that develop the individual and the workshop. Which is why we have invested time and money into this scheme, helping the industry," Mark continued.