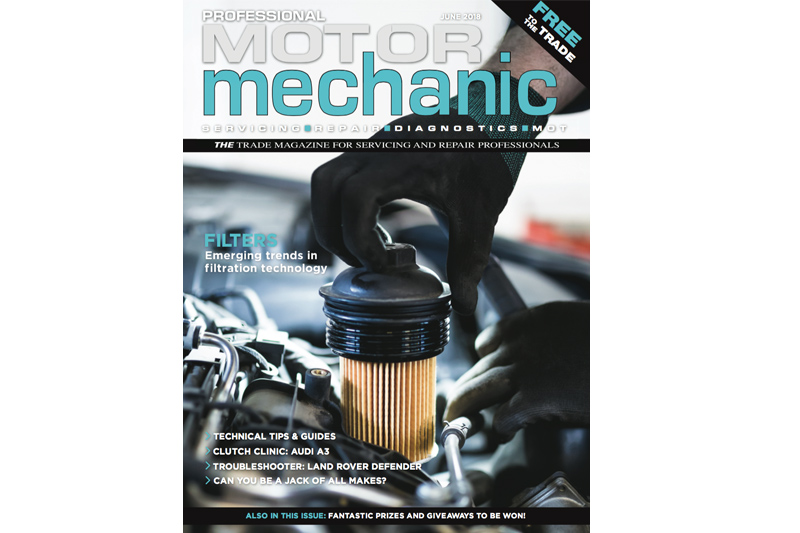 ---
The June 2018 issue of Professional Motor Mechanic magazine has hit the streets!
---
PMM June includes all the latest news, technical hints and repair advice, as well as the newest tools and products from the best suppliers. There are also plenty of goodies and prizes to be won!
Highlights and features this month include:
– Clutch Clinic: Step-by-step clutch fitment guide for a 2014 Audi A3 with Schaeffler Repxpert.

– Belt Clinic: A timing belt kit installation guide on a Vauxhall Insignia with Schaeffler Repxpert..
 – Tech Tips: Autodata shares their fixes to common problems raised through Autodata's technical helpline and Philips have provided a headlight bulb replacement guide for a Ford Fiesta.

– Vehicle Troubleshooter: Joshua Jones recounts a recent run-in  with a temperamental Land Rover that was in need of revival.

– Business:  Mobiletron asks if garages and technicians can really afford to refer TPMS work to tyre specialists and Neil Pattemore examines whether it's still possible, in today's complex repair market, to turn your hand to any vehicle that rolls into the forecourt.

– Special Reports: PMM has enlisted technician, Darren Cotton, to attend the full range of course modules on the Bosch Diagnostic Technician programme and PMM pays a visit to the Luton home of KPS Automotive.

– Steering & Suspension: TRW Aftermarket provide a 10-step procedure for replacing the EPHS Pump on a Ford Focus II and First Line outlines some best practice guidelines for dealing with top strut mount issues.

– Light Commercial Vechicles: Sealey looks at the opportunities for independent workshops to pick up business with the growing number of LCVs on UK roads and Hella Gutmann Solutions urges workshops to be aware of ADAS.

– Oils, Lubricants and Additives: PMM investigates the role of additives in lubricant performance, with independent trade body the Verification of Lubricant Specifications (VLS) and the Former Stig Ben Collins, puts BG Products' Powerflow Service to the test. 
– Filters: UFI Filters examines some of the technological trends emerging in the world of oil filters and Comline run through its new 'First for Filters' brochure. 
and much more…
PLUS: You can WIN 208L of ELF SPORTI with TOTAL and a MXTS 40 battery charger and support unit with CTEK. There's also a great selection of freebies up for grabs! Click here to see current comps and giveaways. 
The magazine is FREE and available from most local factor stockists, so don't forget to ask for your copy!
---
If you're having problems getting your hands on your copy of

PMM June

,

click here to find a stockist near you.