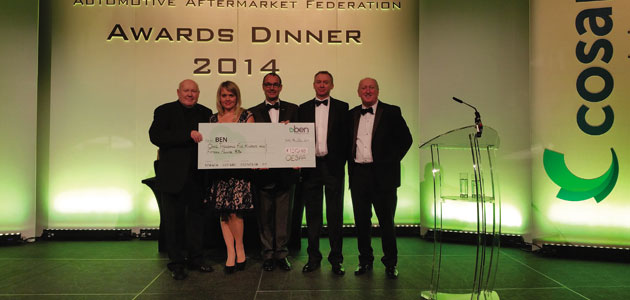 A charity raffle organised by the Original Equipment Suppliers Aftermarket Association (OESAA) has generated more than £1,500 for motor industry charity BEN.
The money was raised at a gala dinner held during the recent AutoInform Live weekend in Wolverhampton and a cheque for £1518.65 was presented to BEN at the Independent Automotive Aftermarket Federation (IAAF) Annual Awards & Dinner in Birmingham in December.
Raffle prizes at the gala dinner, held at Wolverhampton Wanderers FC's Molineux ground,  included an Xbox One, a mini iPad and tools, all donated by OESAA members and other companies that supported the AutoInform Live event.
OESAA Chairman Nigel Morgan, Managing Director of Schaeffler Automotive Aftermarket (UK) Ltd, said: "The gala dinner was a huge success and I would like to thank all our members who donated some fantastic prizes to raise money for what is such a worthwhile charity."
OESAA, which promotes the benefits of fitting original equipment (OE) parts, was the driving force behind AutoInform Live, which was organised in conjunction with the UK's leading technical trainer Frank Massey to provide visitors with a 'Hear it, See it and Touch it' experience.
The event attracted 180 technicians from all over the UK and Ireland to the state-of-the-art GTG Training Academy where exhibitors carried out detailed, hands-on training on live-running vehicles, vehicles up on ramps, and staged a series of technical seminars on a variety of topics.
More than 60 training sessions were held over the two-day event on all aspects of vehicle technology from on-board diagnostics, through to battery management and start-stop technology, ignition products, and the latest powertrain and clutch developments.