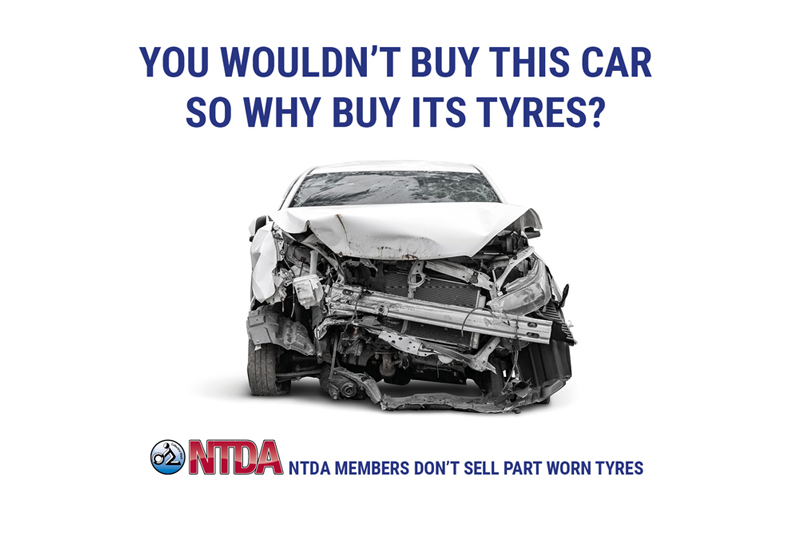 ---
National Tyre Distributors Association (NTDA) members have unanimously said "No!" to the sale of part worn tyres in a new independent survey.
---
The NTDA has been helping Trading Standards prosecute traders who have illegally sold defective part-worn tyres, and its members have now reportedly rejected their sale, en masse.
Following the survey results, Chief Executive of the NTDA, Stefan Hay, has unveiled a marketing campaign at its 2019 Tyre Industry Conference in Birmingham, designed to help its members explain to consumers why part worn tyres just aren't an option in their branches.
Stefan commented: "A series of striking posters, web banners and adverts using the clear headline 'NTDA Members Don't Sell Part Worn Tyres' is aimed at consumers, educating them as to why professional and knowledgeable tyre dealerships won't put their customers at risk by selling them potentially unsafe or defective tyres.
"I am delighted this campaign has the unanimous support of our membership. The fact is, that in the absence of a meaningful enforcement regime, an outright ban on part worn tyres remains the only option to ensure the safety of motorists. That's why we want to help members tell their customers why, as responsible tyre distributors, with knowledgeable and valued tyre technicians, part worn tyres just aren't an option when you visit an NTDA member. I am pleased and proud our members have responded in this way and look forward to seeing these materials in branches across the UK."
Inspections carried out over several years into the sale of part-worn tyres by Tyresafe, have reportedly shown serious safety breaches, including dangerous and unsafe repairs, exposed cords, bead damage and evidence of runflat damage. Illegal, defective or under-inflated tyres were said to be responsible for more than 40% of all vehicle defect-related deaths in the UK in 2015. Additionally having illegal, defective or under-inflated tyres was also said to be responsible for 35% of all casualties on the roads caused by vehicle defects, according to the Department for Transport.
The survey was sent to all NTDA members to canvas their views on part worn tyres and tyre safety.
The key findings included:
NTDA members agreed that there needs to be better enforcement of the current regulations relating to part worn tyres
More than half of NTDA's members (51%) rejected the idea that part worn tyres were fine if tested and inspected as part worn, and nearly 90% would like to see independent audits and a 'licence to sell' brought in to 'police' part worn tyre dealers. Even then, only 8% of NTDA members would consider selling them
92% of members also agreed that the import of part worn winter tyres from the continent needed to stop and should also be banned – with 78% calling for an environmental protection tariff on these tyres discarded by other countries
80% of NTDA members still called for an outright ban on part worn tyres, and 100% of NTDA members surveyed have pledged their support to the new NTDA campaign.
---
All posters, web banners and adverts will be made available to NTDA members free of charge. For more information and to view the campaign materials, visit
www.ntda.co.uk
.