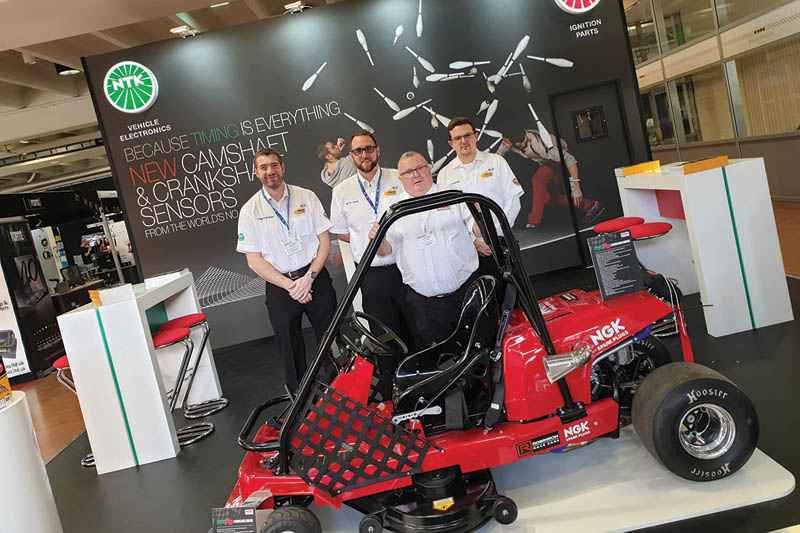 ---
NGK Spark Plugs has showcased its newest ranges of ignition lead sets and camshaft and crankshaft sensors at MECAHNEX, Sandown Park.
---
The leads range comprises more than 40 part numbers including copper core, carbon and inductive resistor types, all manufactured to original equipment (OE) standards, and aims to deliver high resistance to heat and vibration, outstanding electrical conductivity and superior performance under extreme conditions.
While the NTK camshaft and crankshaft sensors range – comprising more than 200 UK-specific part numbers with excellent UK vehicle parc coverage – aims to open up further original equipment (OE) replacement opportunities for aftermarket customers.
Cam and crankshaft sensors are a vital part of the engine management system and provide information about engine speed and the exact position of several engine parts, camshaft/valves and crankshaft/pistons. Supplying this information to the engine control unit (ECU) enables the fuel injection and ignition systems to function efficiently.
Mark Hallam, Marketing Manager, NGK Spark Plugs, said: "Our staff dealt with a lot of enquiries from workshop visitors who wanted to learn more about our new ignition lead sets and NTK camshaft and crankshaft sensors which have already been positively received by our UK customers.
"There was also a lot of interest in our MO70 Dragmower which we also featured on our stand. We believe it is the fastest lawnmower over 1/4 mile after completing the distance in just 9.49 seconds with a top speed of 115.53mph and also the fastest accelerating lawnmower by reaching 102.64mph in 5.44 seconds."
The MO70 Dragmower's performance at Santa Pod Raceway in Northamptonshire, on October 4 topped iconic high-performance cars such as the Dodge Challenger SRT Demon 2018, which took 9.65 seconds over the distance when it reached 140mph, the Bugatti Veyron Super Sport 2011 which took 9.7 seconds to achieve 145mph, and the McLaren P1 2014, taking 9.8 seconds to reach 148.9mph.
The original ride-on mower, on which MO70 was based, has been transformed by seven-time British drag racing champion Andy Robinson and was piloted by NGK's Scottish Sales Representative, John Catterson.
---
For more information on NGK Spark Plugs (UK) Ltd and its products and services, visit
www.ngkntk.com
.