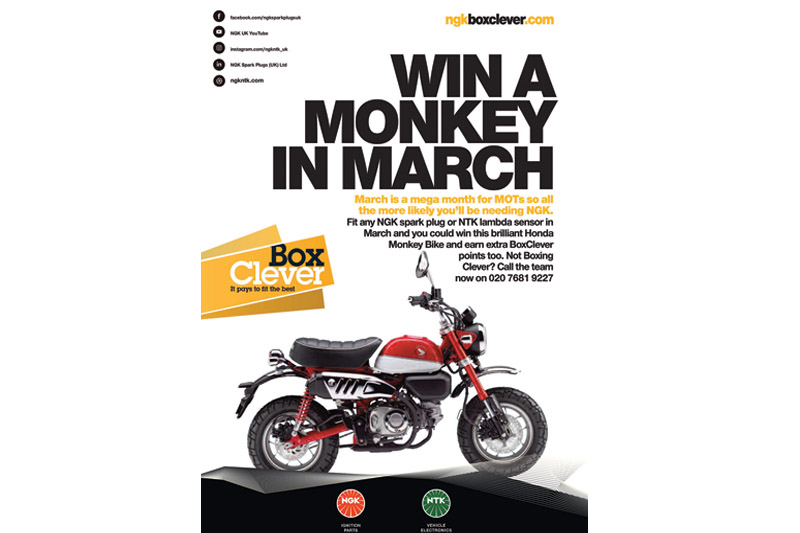 ---
NGK has announced it will be offering members of its Box Clever independent garage loyalty scheme the chance to win a prize based around its spark plugs and NTK Lambda sensors.
---
The company has been encouraging BoxClever members to return the single boxes that its spark plugs and NTK Lambda sensors come supplied in, so they can be entered into a prize draw in March to win a 125cc Honda Monkey motorcycle.
In addition, every time they purchase the components during the month they will be given extra points to exchange for prizes. The value of nickel and precious metal spark points will be increased from five and 10 points respectively to 20 points and Lambda sensors will rise from 150 to 300 points.
Demand for the products is expected to be high to cope with a surge in demand for MoTs and the expected resulting failures of vehicles on emission issues.
During the first coronavirus lockdown last Spring vehicle owners were granted an emergency six-month MoT exemption, as part of the ongoing fight against coronavirus.
However, the Government has not made any such announcement during the third lockdown which means that if a motorist's MoT is due to expire in March – which sees the introduction of the new 21 car registration plate. – they will need to book a test and take their car to a garage as normal.
It will consequently be a busy month for MoTs and NGK says a huge number of vehicles will fail the test on emissions which will lead to increased demand for the replacement of spark plugs and Lambda sensors.
A record 1.3 million vehicles are failing MoT tests due to emissions, according to BookMyGarage. The Freedom of Information (FOI) request to the DVSA by the MoT and service price comparison site found more cars have failed on emissions in the last two years than any other before it, following tougher regulations introduced in 2018.
Mark Hallam, Marketing Manager, NGK Spark Plugs (UK), said: "March will see a high demand for the fitment of Lambda sensors and spark plugs due to MoT emission failures and we are making it even more attractive for BoxClever members to fit our components by not only offering extra points for purchases during the month but also giving them the chance to win a fantastic Honda Monkey motorcycle. Every time they purchase one of the products and return the box during the month they will be entered into a free draw.
"The past year has been tough for both businesses and individuals because of the coronavirus pandemic and we are sure that BoxClever members will relish the chance to win the motorcycle and enjoy the opportunity of rediscovering the freedom of the roads this Spring when social restrictions will hopefully be eased."
---