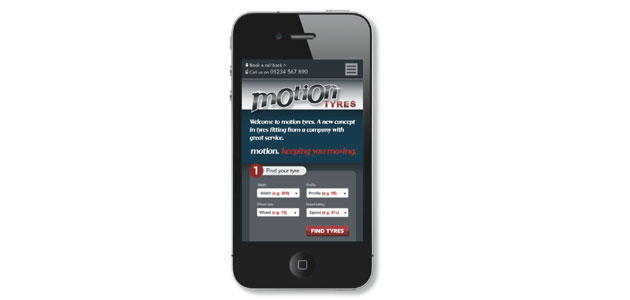 A brand new mobile tyre fitting service, whose aim is to change the face of the automotive industry, has launched on a trial basis in the South East of England, before being rolled out to other areas at the end of year one.
The service from Motion Tyres has ambitious growth targets for the industry – mobile tyre fitting accounts for just 3% of the market.
With a streamlined online ordering system that makes stellar use of cutting-edge web and mobile technology, the service threatens take tyre servicing business away from independent garages.
Customers log on to the website and choose the tyre they require, make payment and arrange a fitting time. Motion Tyres mechanics then travel to the house or workplace to carry out the replacement. In a nod to its promise for flexibility, the service will also be available at evenings and weekends, helping to grow the customer base and word of mouth recommendations. Without the overheads that come with a garage premises, Mobile Tyres are also able to offer competitive prices.
Jon Friedlander, Motion Tyres Company Director said, "We live in an age of convenience. More and more people want a service without having to go out of their way or wait around. Yet when it comes to getting new tyres fitted, drivers are required to take their cars to garages.
"We exist to provide an invaluable service to busy people by fitting new tyres on their drive or at their workplace. We are selling convenience and practicality and we will succeed by being different. The development of a high quality, mobile responsive website, incredibly high customer service and a modern look are what sets us apart from existing mobile fitting companies."
In order not to leave customers waiting, Motion Tyres promise that the fitter will call en-route to specify a precise arrival time. During fitting, rim protectors are used to ensure nothing gets damaged and wheels are cleaned when fitting is complete. All fitters wear uniforms, vans are clean and tidy and ready equipped with everything needed to provide a high quality, professional service.
It is this unique marriage of convenience, technical expertise and courtesy that has seen the campaign pegged as one to watch by industry insiders. The offering for investors is carefully formulated, scientifically detailed and backed up with real data. The five year projected turnover figure of £4.9 million is founded on principles of convenience and excellence and backed by scalable service growth – future plans include the addition of mobile chip repair, alloy wheel repair and car battery maintenance.