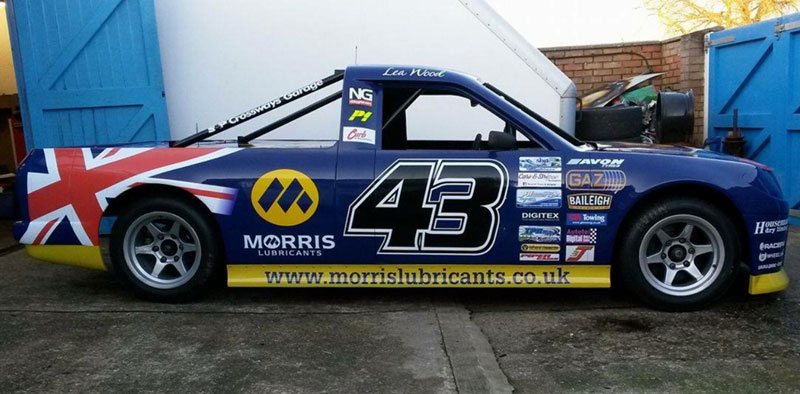 Lea Wood will be back behind the wheel in 2016 after confirming he will make a full time switch to the hotly contested Pickup Truck Racing series for 2016, bringing with him long time title-sponsors Morris Lubricants.
Having made a name for himself in the Dunlop MSA British Touring Car Championship where he most notably secured the bragging rights in the Jack Sears Trophy in 2013, the Hereford-born competitor will campaign for a full season after impressing on a one-off appearance at Thruxton earlier in 2015.
Teaming up with Dave Longhurst, Wood's engineer in the BTCC, the 31-year-old is relishing the opportunity to test himself in a completely different discipline of racing, as well as getting to grips with new machinery.
Commenting on the deal, Wood said: "I'm really looking forward to this new challenge; this is a great series and one that I have a great connection with including the main co-ordinator.
"When I knew that the opportunities in the BTCC weren't there for me this was always a strong option and it made sense to embark on this journey with Dave.
"As always it is never possible to go racing without our sponsors and I have some great people on board.
"This move to the series works well for Morris Lubricants as they feature heavily in other Truck championships; everything has really fallen into place and it is exciting to see how we as a team get on against some real established stars."
Making the jump from the UK's premier race series to the Pickup championship, Wood has his sights set on being competitive but is adamant it will be an education of sorts when getting to grips with the high-speed bowl of Rockingham Motor Speedway.
Craig Bastable, Morris Marketing Manager, continued: "We are really delighted to be supporting Lea in 2016. He has been a first rate ambassador for Morris Lubricants from the start of our sponsorship activity in the BTCC 2013 season.
"Being a talented and focused individual, there is no doubt that he will be challenging at the front of the pack."
Wood begins his quest for the top step of the rostrum at Brands Hatch on March 27th and 28th.